There was no immediate information on casualties from today's second day of fighting in the central Iraqi city of Al-Diwaniyah, 180 kilometers south of Baghdad.
U.S.-backed Iraqi forces swept through Al-Diwaniyah on April 6 in an operation meant to drive out militiamen loyal to radical Shi'ite cleric Muqtada al-Sadr and return the city to central government rule.
Local hospital sources claimed that six people, including two children and a woman, were killed in a missile strike on a home in the city center.
U.S. military spokesman Lieutenant Colonel Scott Bleichwehl said one person was killed when a warplane fired on gunmen carrying rocket-propelled grenade (RPG) launchers.
Reports say Shi'ite militias are fighting back with roadside bombs and RPGs in hit-and-run attacks. The U.S. military had no immediate comment.
One resident, Qassim Abid, told Reuters he saw two U.S. armored Humvees damaged by roadside bombs and a third by RPGs. There was no independent confirmation.
"An American Humvee was driving here when a bomb exploded," Abid said. "The Americans collected its wreckage quickly and drove away. We did not find any trace of it. They removed it quickly."
In other developments, the U.S. military said today that roadside bombs had killed two U.S. soldiers in separate incidents around Baghdad on April 6.
Meanwhile, Iraqi Foreign Minister Hoshyar Zebari has announced that a ministerial meeting involving Iraq, its neighbors, and world powers will be held in Egypt on May 3-4. The most likely venue, he said, would be Sharm el-Sheikh.
The meeting will follow up earlier talks aimed at stabilizing the country.
Iraqi Prime Minister Nuri al-Maliki had wanted the meeting held in Baghdad. But some countries reportedly expressed concern about security for their ministers.
(compiled from agency reports)
Muqtada Al-Sadr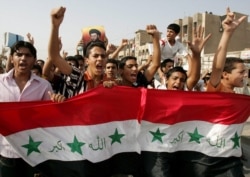 Al-Sadr supporters demonstrating against the U.S. presence in Iraq in October 2006 (epa)

A RADICAL CLERIC. Shi'ite cleric Muqtada al-Sadr is a key figure in Iraq. He heads the Imam Al-Mahdi Army militia and a political bloc that is prominent in parliament and the government. His ties to Iran have also provoked concerns in some quarters.
RELATED ARTICLES
Cracking Down On Al-Sadr No Easy Task
Political Parties Consider Uniting Against Al-Sadr
Is Al-Sadr Stirring The Pot Or Promoting Peace?
Radical Shi'ite Cleric Calls For Shi'ite-Sunni Unity
Al-Sadr Reasserts Himself -- This Time Against Coreligionists