The law, announced in a joint statement by Shi'ite Prime Minister Nuri al-Maliki and Kurdish President Jalal Talabani, is reportedly one of four proposals calling for the revision of the de-Ba'athification law established by the Coalition Provisional Authority in 2003. If it is ratified by parliament, it could move the country closer to ending the growing sectarian divisions plaguing the country.
The introduction of the draft law follows several months of negotiations by Iraqi leaders, both inside and outside government, with Sunni Arab insurgents, many of whom joined the resistance after losing their military or technocratic positions following the fall of Saddam Hussein's government.
U.S. Envoy Meets With 'Patriotic' Groups
Former U.S. Ambassador to Iraq Zalmay Khalilzad, who left his post earlier this week, told reporters at a March 26 press briefing in Baghdad that he had met with some insurgent leaders, whom he called reconcilables, in an effort to encourage them to lay down their arms and join the political process.
Khalilzad said coalition commanders have also been in contact with
insurgent leaders "to explore ways to collaborate in fighting the
terrorists."
Khalilzad did not identify the leaders or their groups by name, but said they come from "more patriotic" groups. He added that the leaders are opposed to the activities of the Al-Qaeda-affiliated groups operating in Iraq, which they view as incompatible with their own goals.
U.S. and Iraqi officials said Khalilzad met with representatives of the Islamic Army in Iraq and the 1920 Revolution Brigades, "The New York Times" reported on March 26.
Khalilzad said coalition commanders have also been in contact with insurgent leaders "to explore ways to collaborate in fighting the terrorists." U.S. commander in Iraq General David Petraeus told ABC news in an interview published earlier this month that there were
encouraging signs
that Sunni insurgents would join the political process. "They want their place at the table," he said.
Government Talks With Insurgents
Days before Khalilzad's revelation, the London-based "Al-Hayat" reported that the Iraqi government was in dialogue with seven factions that are active in Al-Anbar, Salah Al-Din, and Diyala -- the most restive governorates outside Baghdad. The dialogue has resolved a host of disagreements between al-Maliki's government and the insurgency, the newspaper reported on March 20.
According to "Al-Hayat," members of al-Maliki's government met with insurgent leaders during the second week in March to coordinate the fight against Al-Qaeda. Iraq observers have long noted that once Sunni Arab Iraqis could be brought into the political fold, Al-Qaeda -- which for the most part is comprised of non-Iraqi Arabs -- would be defeated on Iraqi soil.
"Al-Hayat" noted that members of the Islamic Army in Iraq, the 1920 Revolution Brigades, and the Al-Rashidin Army, groups largely comprised of former members of Saddam Hussein's army, are at odds with Al-Qaeda and are moving toward reconciliation with the government.
The report also claimed that Syria has sponsored talks between former Ba'athist leaders and the Iraqi government. Those talks resulted in the defection of several Ba'athists from former Vice President Izzat Ibrahim al-Duri's insurgent group, which is believed to be headquartered in Damascus. The leaders defected after being guaranteed certain conditions, including constitutional amendments, a revision of the de-Ba'athification law, and a program to bring a Sunni-Shi'ite balance to the military, which has been dominated by Shi'ites in the post-Hussein era, according to "Al-Hayat."
Sunni parliamentarian Ala Makki told Al-Arabiyah television this week that the insurgent groups in question have shown a clear desire to contribute to the political process in Iraq, but cautioned that talks with other groups remained ongoing. Makki said the negotiations have been going on for three years.
Winning Them Over, One By One
The sensitivity of the issue has precluded U.S. and Iraqi officials from commenting on the record about the identity of the groups in question. For their part, insurgent leaders appear hesitant to admit they are taking part in the talks, lest they draw the ire and retaliation of fellow fighters.
Given the independent and localized nature of insurgent groups, it is unlikely that any would decide to lay down arms and join the government in one fell swoop. Rather, it is more likely that factions of groups will decide to break away and join one by one, once they are satisfied of the government's intentions toward reconciliation.
A number of insurgent groups have issued statements suggesting a split among factions in recent weeks. For example, the insurgent website mohajroon.com carried a statement by the 1920 Revolution Brigades on March 18 announcing its two brigades are
free to make their own decisions
about how and whether to cooperate and integrate with other groups.
Meanwhile, the "Los Angeles Times" reported on March 27 that the Diyala branch of the 1920 Revolution Brigades is distancing itself from Al-Qaeda because of the latter's tactics, including its targeting of civilians.
A leader of the Mujahedin Army in Iraq told Al-Jazeera television in a March 26 interview that the army -- an umbrella group that purportedly includes the Al-Mujahedin Army (an armed faction of the same name) as well as the Islamic Army in Iraq, the Ansar Al-Sunnah Army, the 1920 Revolution Brigades, and the Al-Rafidayn Army -- "has no coordination with the [Iraqi] government or the Americans." He later added, "Once these factions, along with all good mujahedin, see that negotiations serve the interest of the country, the people, and the nation, they will not hesitate to do so, will not hide it, and will take this option immediately."
Ansar Al-Sunnah leader Abu Abdallah al-Hasan Ibn Mahmud said in a March 24 Internet statement that two mujahedin leaders had participated in talks (not further explained), purporting to represent the entire Ansar Al-Sunnah group but in fact did not have the leadership's permission to do so. "They do not represent anyone but themselves," Abu Abdallah contended.
He cautioned members of Ansar Al-Sunnah against participating in any initiatives without executive approval, adding, "There must not be any alienation or division among us because of any marginal issues, the details of which might not be known by some among us, leading an individual...to oppose his brother on a ruling." Abu Abdallah also warned the mujahedin against "ideas that are proposed for the purpose of weakening the mujahedin and dividing them."
Abu Abdallah's cryptic statement leads to many questions about the state of Ansar Al-Sunnah, but one thing is clear: members of the group operate independently and at times, contrary to the leadership's wishes. This is of little surprise given that Ansar Al-Sunnah, like other insurgent groups, is thought to be comprised of both hard-core Islamists and more secular elements.
Sunni Arab leader Muthanna Harith al-Dari of the Muslim Scholars Association, an organization that is critical of the government and closely tied to the insurgency, claimed in a March 27 interview with Al-Jazeera that Khalilzad's statements were contrived to cover gains by the insurgency. Such statements "prove these [insurgent] factions are on their way to achieving something." He further claimed, "It seems that the unity plan among these factions or at least [the process of] reaching a political understanding among them in order to coordinate their efforts to expel the occupier is imminent."
Selling It To The People
Some of Iraq's Shi'ite and Kurdish leaders have criticized the draft law, saying it is wrong to welcome former Ba'athists, who persecuted the Shi'a and Kurds, back into the fold of Iraqi politics. The de-Ba'athification Commission, a government body responsible for reviewing the cases of thousands of Ba'athists who lost their jobs after 2003, issued a statement this week saying that a ratification of the draft law would lead to an escalation in sectarian violence across the country. It claimed victims of the Ba'ath Party would seek revenge against those people returned to their jobs.
The statement quoted commission head Ahmad Chalabi as saying that it is too early to present the law to parliament because the wounds of the victims of the Ba'ath Party have not healed yet.
Chalabi told state-run Al-Iraqiyah television in a March 6 interview that the commission has worked to protect former Ba'athists from those who would harm them -- a claim many Sunnis challenge. The commission has been criticized for its sectarian composition -- it is heavily Shi'ite, and the al-Maliki-Talabani plan calls for its dissolution. It would be replaced by a panel of judges that would be more independent and ethnically balanced.
Chalabi denied claims in the March 6 interview that his commission has been used to seek revenge on Sunni Arabs, and claimed that U.S. officials tried to place unfair blame on the commission for the sectarian violence taking place in Iraq. "There may be a faction in Iraq that is not happy with de-Ba'athification, but there are many groups in Iraq that do not accept the ending of de-Ba'athification at present," he contended.
Commission member Ali Faysal al-Lami claimed that the United States pressured Talabani and al-Maliki into revising de-Ba'athification, the "Los Angeles Times" reported on March 28. "Our opinion is that this is an attempt to return Ba'athists to the highest echelons of power within the coming six months...without taking into account the many innocent victims who suffered from the Ba'athists," he said.
Foreign Minister Hoshyar Zebari stressed the government's need to take a firm position on who it will negotiate with during a March 27 interview with Al-Iraqiyah television from Riyadh. "We should come up with something concrete. It is not enough to call for reconciliation. The time will come to determine who you should achieve reconciliation with. With whom should we achieve reconciliation? Is it with Al-Qaeda, or with the Saddamists and Ba'athists who are killing us every day," he asked.
Despite the opposition of many Shi'a and Kurds to the draft law, there are few options left for al-Maliki's administration. Faced with the possibility of a sooner-than-expected withdrawal of coalition forces and increased regional pressure -- highlighted at
this week's Arab League summit
in Riyadh, not to mention key commitments undertaken at the March 10 neighbors meeting -- the government recognizes the urgent necessity of bridging the Sunni-Shi'ite divide. The final decision, however, will rest with the parliament.
Muqtada Al-Sadr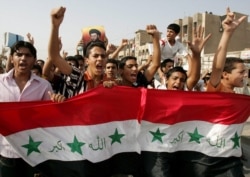 Al-Sadr supporters demonstrating against the U.S. presence in Iraq in October 2006 (epa)

A RADICAL CLERIC. Shi'ite cleric Muqtada al-Sadr is a key figure in Iraq. He heads the Imam Al-Mahdi Army militia and a political bloc that is prominent in parliament and the government. His ties to Iran have also provoked concerns in some quarters.
RELATED ARTICLES
Cracking Down On Al-Sadr No Easy Task
Political Parties Consider Uniting Against Al-Sadr
Is Al-Sadr Stirring The Pot Or Promoting Peace?
Radical Shi'ite Cleric Calls For Shi'ite-Sunni Unity
Al-Sadr Reasserts Himself -- This Time Against Coreligionists