Allawi has criticized the government of current Prime Minister Nuri al-Maliki for its sectarian nature and claims he has a plan to end sectarianism in Iraq. He says he has presented his plan to the United States, Britain, and regional states, and has received positive responses. There are suggestions, however, that it is short on substance and is little more than an attempt to grab the reins of power.
Supporters of Allawi's plan have all complained that their parties have been shut out of decision-making processes within al-Maliki's government. While several parties hold high-level seats, their leaders say that power rests in the hands of a small group of Shi'ite leaders who control key facets of the government.
The End Of Quotas?
A key element of Allawi's plan is to form a national-unity government not based on sectarian quotas. He has said that he supports the appointment of qualified persons based on competence rather than affiliation. It is debatable, however, whether Iraq's political parties are mature enough -- or patriotic enough -- to put the country's interests over their own aspirations. Moreover, Allawi's own track record offers little promise of change: his interim administration was based on quotas.
"They [the government] want to marginalize us for many reasons,
including the fact that we differ with them over the issues of
militias, the sectarian-sharing system, and the building of the modern
state."
Allawi supporter Izzat al-Shabandar told "Al-Sharq al-Awsat" in January that a "sectarian spirit controls the political process in Iraq because the Shi'ite community's amirs are clinging to power, since they believe this is their right that they lost several centuries ago, while the Sunnis' amirs fear the Shi'a control over everything." While many believe al-Maliki himself is not sectarian, they are not confident in his ability to fashion a nonsectarian government.
Allawi told "Al-Sharq al-Awsat" in an interview published on January 20 that part of the problem in Iraq today is that the government does not want to amend de-Ba'athification (al-Maliki has promised to review the de-Ba'athification process). Meanwhile, former Ba'athists do not want to sit at the table with the current government because they do not recognize it as legitimate, he said. Allawi has met regularly with former Ba'athist and "resistance" leaders since 2004.
He then told Al-Iraqiyah television on February 27 that he has lobbied with the U.S. military to release several supporters of radical Shi'ite cleric Muqtada al-Sadr, as well as former Defense Minister Sultan Hashim Ahmad, who he said had cooperated with the United States and Iraqi parties "before and during" the 2003 war. Hashim is currently being tried in the Anfal case for crimes against the Kurds.
As for his Iraqi National List, Allawi said, "They [the government] want to marginalize us for many reasons, including the fact that we differ with them over the issues of militias, the sectarian-sharing system, and the building of the modern state." He added: "We also differ with them on the issue of Iraq's Arab and Islamic affiliation. We believe that Iraq is part of the Arab and Islamic nations. It appears that the government and many other parties do not want Iraq to have an Arab or an Islamic wing." Because of his bloc's position, several of its members have been targeted for arrest, he added.
Political Maneuvering
Allawi's plan emerged some weeks after "moderate" parties attempted their own restructuring of the political landscape, according to Arab media reports. Vice President Tariq al-Hashimi said attempts were made in December to bring together his Iraqi Islamic Party, the Kurdistan Coalition, the Supreme Council for the Islamic Revolution in Iraq (SCIRI), and al-Maliki's Al-Da'wah Party. "Al-Maliki was unable to persuade the party to join because of its alliance" with al-Sadr's supporters, al-Hashimi told "Al-Sharq al-Awsat" in an interview published on January 18.
Parliamentarian and Al-Da'wah member Haidar al-Abadi told the daily in a separate interview published the same day that his party's refusal to join was based on the fact that it believes in the current political process, while other parties do not. He accused the disgruntled parties of having no vision, and said al-Maliki is committed to political reconciliation.
"The prime minister [al-Maliki] has sent envoys to Cairo, Amman, the United Arab Emirates, and other countries.... The envoys have met with Ba'athist groups and other groups that are far from the Ba'ath [Party]. The only party they did not meet with is Al-Qaeda," al-Abadi said.
All those parties claimed they wanted a role in the political process, al-Abadi said, adding: "But the problem is that we should determine...who is responsible for the acts of violence. So far, this has not been determined." He noted that some of the parties claimed to represent armed groups but those groups turned out to be small and uninfluential.
In addition, the government was unwilling to meet demands that the political process go back to square one -- a demand that Allawi appears to be advocating at the moment. Al-Maliki's alternative, it appears, will come in the form of his upcoming cabinet reshuffle.
The 'Plan' Takes Shape
Allawi told the Amman daily "Al-Dustur" in an interview published on January 22 that the plan has four points: declaring martial law for a period of two years; forming a ministerial security group headed by a competent, nonsectarian prime minister and including the ministers of defense, interior, national security, and justice, along with the head of the intelligence service; working to build national institutions, combat militias, and purge state institutions of those militias; and holding a UN-sponsored regional conference similar to
the Sharm el-Sheikh conference
that was held in November 2004.
The Arab League and the Organization of the Islamic Conference would co-sponsor the conference. Allawi told the daily he has elicited and received the support of Jordan's King Abdullah II and Egyptian President Hosni Mubarak.
Allawi has said he also advocates bringing troops from Arab countries -- though not including Iraq's neighbors -- to maintain security in Iraq. The
same idea was floated under Allawi's interim government,
but was opposed by several political parties.
Allawi spokesman Ibrahim al-Janabi told "Al-Dustur" on January 20 that the former prime minister presented his plan to U.S. Secretary of State Condoleezza Rice as an alternative to the Baghdad security plan during a recent meeting in Baghdad and that Rice welcomed the plan.
Regarding Iraq's neighbors, Allawi told state-run Al-Iraqiyah television on February 27, "Syria and Saudi Arabia are ready to help Iraq," and "Iran is likely to contribute to Iraq's stability."

Support Forms Behind Allawi
Sunni Arab politician Salih al-Mutlaq told RFE/RL last week that
several political parties would support
Allawi's national-unity front. "There were about 32 political groups in it. At that time, Al-Tawafuq [the Iraqi Accordance Front] was part of it, Allawi's group was part of it, Al-Fadilah, some of the Sadrists, the Ba'athists, the old army leadership, the Arab tribe organizations, some influential political groups from the south, especially [Ayatollah Mahmud al-Hasani] al-Sarkhi's group, the [Iraqi] Turkoman Front, the Kurdish movement, apart from the two Kurdish parties. So we only excluded the two Kurdish parties -- to be negotiated with them later because they have their own project, which is a non-Iraqi project nowadays.... And we excluded SCIRI because it's looking for sectarianism in Iraq and its aim is to divide Iraq."
Adnan al-Dulaymi, the head of the Iraqi Accordance Front, the major Sunni bloc, announced at a March 6 press conference in Baghdad that his front intended to join Allawi's new front, which would be called the Iraqi National Front. Later that day, he told Al-Sharqiyah television: "Correcting the course of the Iraqi political process is the demand of all Iraqis. Everybody wants the course of the political process to be corrected."
The next day, the
Al-Fadilah Party withdrew
from the Shi'ite-led United Iraqi Alliance. "We consider the first step of saving Iraq is to dismantle these blocs and to prevent blocs [from] forming on a sectarian basis," Al-Fadilah leader Nadim al-Jabiri told reporters. The party has yet to announce whether it intends to join Allawi's front.
Wooing The Kurds
Allawi has been rumored to be courting the two major Kurdish parties in recent press reports. Al-Iraqiyah spokesman Izzat al-Shahbandar told "Al-Sharq al-Awsat" that Allawi discussed the front when he and U.S. Ambassador Zalmay Khalilzad visited Kurdistan region President Mas'ud Barzani, who heads the Kurdistan Democratic Party, during the first week of March. Allawi also reportedly met with representatives of the Patriotic Union of Kurdistan the same week.
The fact that Allawi and Barzani are now both in Saudi Arabia is no coincidence, al-Shahbandar said. "I believe that this visit was coordinated so as to have both Allawi and President Barzani in Riyadh....within the framework of the joint efforts of Dr. Allawi and President Barzani to back the Iraqi national plan," he noted.
Should Allawi succeed in forming his front with the support of the Iraqi Accordance Front (44 parliamentary seats), the Kurdistan Coalition (55 seats), and Al-Fadilah (15 seats), he will prove a strong rival to the current government. Allawi aide Falah al-Naquib told London's "The Times" that with Al-Fadilah and the Kurds, the front should have 140 of the 275 seats in parliament, the daily's website reported on March 14. The ruling Shi'ite alliance currently has 113 seats following the departure of Al-Fadilah.
A Step Back
The problem with Allawi's plan is that in essence, he advocates a step backward. His call for the imposition of martial law equates to a call for a prime minister, heading a war council, with unique powers that essentially cannot be checked by other governmental bodies. Two elements of the plan -- Arab troops and de-Ba'athification -- are likely to be greeted by Sunni Arab groups but encounter stiff resistance from Shi'ite political parties, meaning he would trade one opposition for another.
The participation of the Arab League, which has never proven to be an effective body, will produce little change, and again, satisfy the Sunni Arab groups and agitate the Shi'a. In addition, opinion polls show that public support for Allawi is about equal to that for al-Maliki.
A more productive alternative might be to work with al-Maliki to amend the current political landscape, which will help bring about the required policy changes.
Allawi told state-run Al-Iraqiyah television on February 27 that he supports al-Maliki, but needs to see changes made in the prime minister's administration. Allawi said al-Maliki told him privately that he is against militias and power sharing. "If [al-Maliki] tries to entrench the power-sharing system, we will not stand by him," Allawi said, adding, "If the policy of exclusion, punishment, and the use of militias continues, we will not be able to take part in the executive authority."
Muqtada Al-Sadr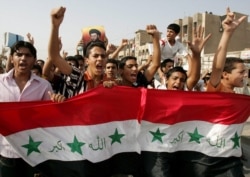 Al-Sadr supporters demonstrating against the U.S. presence in Iraq in October 2006 (epa)

A RADICAL CLERIC. Shi'ite cleric Muqtada al-Sadr is a key figure in Iraq. He heads the Imam Al-Mahdi Army militia and a political bloc that is prominent in parliament and the government. His ties to Iran have also provoked concerns in some quarters.
RELATED ARTICLES
Cracking Down On Al-Sadr No Easy Task
Political Parties Consider Uniting Against Al-Sadr
Is Al-Sadr Stirring The Pot Or Promoting Peace?
Radical Shi'ite Cleric Calls For Shi'ite-Sunni Unity
Al-Sadr Reasserts Himself -- This Time Against Coreligionists