Omurkulov said Prime Minister Almaz Atambaev told a working group that he would immediately resign after new constitutional amendments are approved, if it helped ease tensions.
Omurkulov is a member of the presidentially sanctioned working group tasked with drafting proposed reforms. He said that most of those preparations were completed today.
Atambaev, who leads the opposition Social Democrats, was confirmed as prime minister less than a week ago.
But his reported offer comes as opposition protests demanding the president's resignation pick up pace.
Opposition leaders are reportedly traveling around the country to gather support for what they claim will be a massive rally on April 11 to demand Bakiev's resignation.
Scattered minor protests have taken place in several cities, and dozens of hunger strikers remain camped out in front of the parliament building in the capital to demand President Kurmanbek Bakiev's resignation and constitutional reforms.
The bitter dispute over constitutional reforms -- and the balance of power between branches of government that are enshrined in the basic law -- have dominated Kyrgyz politics since major protests forced the government's hand in November.
A potentially powerful alliance of political forces -- United Front For A Worthy Future For Kyrgyzstan -- recently formed to oppose Bakiev. It includes his former ally and prime minister, Feliks Kulov.
Understanding Kyrgyzstan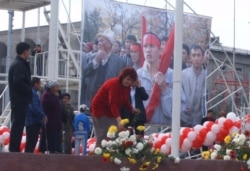 Workers preparing for celebrations of the constitutional compromise in Bishkek on November 9 (RFE/RL)


A STABLE FOUNDATION? On November 9, RFE/RL's Washington office hosted a briefing featuring RFE/RL Kyrgyz Service Director Tyntchtykbek Tchoroev and RFE/RL analyst Daniel Kimmage.
LISTEN
Listen to the complete discussion (about 80 minutes):

Real Audio
Windows Media
RELATED ARTICLES
Parliament Adopts Constitution Curtailing Presidential Powers
Crisis Deepens After President Proposes Constitutional Changes
Bishkek Prepares For Large Opposition Rally