U.K. Troops Hand Over Another Al-Basrah Base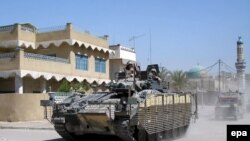 British forces in Al-Basrah (file photo) (epa) April 8, 2007 -- The British military today handed over a key base in the southern Iraqi city of Al-Basrah to the Iraqi army as part of its gradual withdrawal plans from the country.
The military transferred the Shatt Al-Arab base, one of five occupied by the British military since the U.S.-led invasion in March 2003, to the 10th Iraqi Army division.
Iraqi army officials said at a ceremony marking the handover that their forces will soon take over other bases in and around Al-Basrah from the British military.
Prime Minister Tony Blair said in February that Britain would begin withdrawing a quarter of its 7,000 troops in the coming months, although a recent pullout in Al-Basrah was described by a British commander as a repositioning in conjunction with a timetable.
(AFP)