Energy ministers from the Gas Exporting Countries Forum (GECF) countries have denied reports that discussions could include proposals to form a gas cartel similar to OPEC (Organization of Petroleum Exporting Countries).
"I hate the name 'cartel.' We are not a cartel," Qatari Oil Minister Abdullah al-Attiyah, who is also a former head of OPEC, said participating countries are at the meeting to "consider our interests."
But comments that emerged from Doha today suggested that not all its members regard it similarly.
Algerian Energy and Mines Minister Chakib Khelil told Reuters that "in the long term, we are moving towards a gas OPEC."
Shokri Ghanem, the head of Libya's energy sector, said the group is "trying to strengthen the cooperation among gas producers to avoid harmful competition."
Several participants noted that strengthening the GECF would take considerable time.
The GECF is a loose affiliation of 16 countries who control more than 70 percent of the world's gas reserves. Participants include Russia, Iran, Turkmenistan, Venezuela, Qatar, and Algeria. It was launched in Tehran in 1991.
Moscow's Lead
Participants decided on the first day of the meeting to create a study group -- chaired by Russia, the world's leading gas exporter -- to explore ways to strengthen the GECP.
Russian President Vladimir Putin floated the idea of a gas cartel in 2002, before retreating under criticism from Western energy companies.
On February 1, Putin told an annual press conference that "we're already trying to coordinate our actions in the markets of third countries," adding that "we also intend to do it in future. He then softened his tone, saying Moscow supports "coordination" but not the "creation of some kind of cartel."
The Russian daily "Kommersant" reported on March 19 that an agreement on forming such a "cartel" was reached in mid-March and would be signed at this week's Doha meeting.
"We do not, and will not, set ourselves the goal of ganging up on anybody. It would be destructive and it would make no sense at all," Russian Energy Minister Viktor Khristenko was quoted as saying ahead of the meeting.
European Union leaders have reportedly begun considering ways to respond if the group were to seek coordination of gas output and control of prices.
(Reuters, AP)
An OPEC For Natural Gas?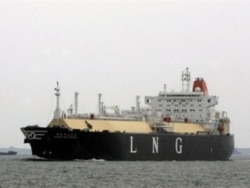 A tanker carries liquified natural gas to markets in Asia (AFP)

COMING TOGETHER? PFC energy analyst Nikos Tsafos and RFE/RL energy analyst Roman Kupchinsky discussed with an RFE/RL briefing what the likelihood is of a natural-gas-producers consortium being formed and what such an organization might look like.
LISTEN
Listen to the entire briefing (about 70 minutes):

Real Audio
Windows Media
RELATED ARTICLES
Vision Of Global Gas Cartel Gains Clarity
Putin To Take His Message To The Persian Gulf
Iranian Politicians Support Establishment Of Natural-Gas Cartel
'Gas OPEC' Moves Closer To Becoming Reality