Later, al-Maliki thanked Defense Minister Fumio Kyuma for Japan's support in rebuilding his country and urged Japanese companies to return and do business there.
Meanwhile, Japan announced today that it has lent some $850 million to Iraq, repayable after 40 years with a 10-year grace period at an interest rate of 0.75 percent a year.
Al-Maliki is also expected to meet today with Japan's prime minister, Shinzo Abe.
Tokyo backed the U.S.-led invasion of Iraq and provided troops for a noncombat, humanitarian mission. It withdrew its ground forces in July 2006, but has since expanded Kuwait-based air force operations.
Al-Maliki arrived in Japan late on April 8 after a delay because Iran barred his plane from crossing Iranian airspace due to what Iran said was the Iraqi side's failure to clear the flight in advance.
(compiled from agency reports)
Iraq's Refugee Crisis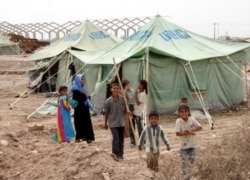 Children at an Iraqi camp for displaced people outside Al-Nasiriyah in May 2006
REFUGEES FLEE SECTARIAN VIOLENCE The UN High Commissioner for Refugees has estimated that over 2 million Iraqis have fled sectarian violence for Jordan, Syria and other neighboring states, while an equal number may be internally displaced within Iraq..... (more)
RELATED ARTICLES
Neighboring States Call For Help With Refugees
Refugees Under Pressure in Syria, Jordan, Lebanon
Displacements Upset Religious, Ethnic Communities
Official Says Refugees To Get New Passports Soon