Wen and Japanese Prime Minister Shinzo Abe will hold talks ranging across trade to the potential threat posed by North Korea's nuclear program.
Chinese and Japanese commentators alike are describing the aim of Wen's trip to Japan as to melt the "snow" and "ice" which has held the key relationship in East Asia frozen for years.
Historic, Modern Rivals
Wen will not have an easy job. Added to Chinese historical grievances, particularly stemming from World War II, there is the modern trade rivalry between the two giant economies, and distrust over the build-up of arms in both countries.
London-based China analyst Alexander Neill is cautious about the likely gains of the visit. "The visit is probably only going to be cosmetic rather than having any real substance in improving relations, but it is a step in the right direction," he says.
Nevertheless, Wen received a warm welcome from Japanese officials and a waiting crowd waving Chinese flags at Tokyo airport today.
Abe visited China in October, soon after taking office, on a trip that made only a start at easing the strains.
Military Tensions
Abe's conservative predecessor, Junichiro Koizumi, angered the Chinese with his regular visits to the Yasukuni war shrine, which honors among the dead a number of war criminals.
The matter has remained highly controversial for the Chinese, as this year marks the 70th anniversary of the Nanjing massacre, in which the Chinese say Japanese troops killed hundreds of thousands of Chinese civilians. Some conservative Japanese scholars and politicians deny any massacre took place.
"Given that Prime Minister Shinzo Abe has quite a nationalistic policy, which is rather irksome to the Chinese leadership, and though Abe has made conciliatory gestures, particularly being ambiguous about visiting the Yasukuni shrine, his actual defense policies have become more assertive," Neill of the Royal United Services Institute notes.
China's extensive military modernization over the last two years has rattled the Japanese. This, coupled with North Korea's detonation of a nuclear device, has brought new strategic tensions to East Asia.
The Chinese, in turn, have been worried by Abe's plans to modify Japan's pacifist postwar constitution to allow Japanese forces to deploy overseas in some circumstances.
There's also the joint Japanese-U.S. development of a missile defense, which is meant to block North Korean missiles, but is also seen by China as a step toward an arms race.
Economic Concerns
On the economic front, there are also problems. The two countries disagree about the position of the common maritime border between them in the East China sea, an area which is thought to be rich in energy reserves.
Officials from the two sides have been holding talks on the dispute ahead of the Abe-Wen summit, but there's no word of any progress.
Japan also faces the uncomfortable prospect that China may become Asia's biggest economy within the next decade, as it is growing many times faster than the Japanese economy.
Nevertheless, the economic bonds between the two countries are vital to both. China is already Japan's biggest trade partner, ahead of the United States, with two-way trade totaling nearly $240 billion last year. China needs input from Japan to raise the technological level of its products, while Japan needs access to China's vast domestic market.
Wen is due to spend three days in Japan.
Iran And China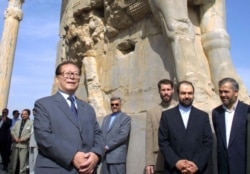 Chinese President Jiang Zemin visiting the ancient Persian capital of Persepolis in April 2002 (epa)


TWO REEMERGING CULTURES: At a joint RFE/RL-Radio Free Asia briefing at RFE/RL's Washington, D.C., office on November 9, John Calabrese -- scholar in residence at the Middle East Institute who teaches foreign policy at American University -- discussed the growing ties between China and Iran in the context of China's economic boom and its overall relations with the Middle East. He also looked at potential sore points in the two countries' bilateral relations.
LISTEN
Listen to the complete discussion (about 90 minutes):

Real Audio
Windows Media
RELATED ARTICLES
U.S. Commission Concerned About SCO's Influence In Central Asia
IMF Seeks To Recognize And Restrain Beijing's Growing Power
Beijing Makes Further Economic Inroads Into Central Asia
Tehran's New Signals Could Hint At Pressure From Moscow, Beijing
ARCHIVE
RFE/RL's English-language coverage of
China
and
Iran
.
SUBSCRIBE
For weekly news and analysis on Iran by e-mail,
subscribe to "RFE/RL Iran Report."