China Defends Military Budget, Antisatellite Test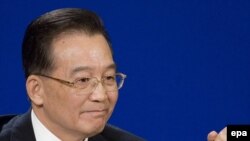 Chinese Prime Minister Wen Jiabao speaking in Beijing today (epa) March 16, 2007 -- Chinese Prime Minister Wen Jiabao today defended the country's military buildup, saying that it poses no threat to anyone.
Wen also said China is committed to the peaceful use of outer space, despite international concerns over its recent antisatellite-missile test.
"We are sincere in sticking to the path of peaceful development," Wen said. "Our policy is only for self-defense. Our limited military power is for maintaining the security, independence, and sovereignty of our country. On this matter, we are completely transparent."
Wen spoke after the close of a parliamentary session, in which lawmakers approved a 17.8 percent increase in defense spending. The United States and Japan have raised concerns about China's growing military budget.
(AFP, AP)