Russia Dismisses Reports of Chinese Antisatellite Test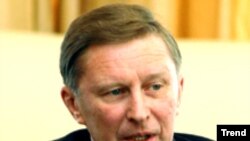 Sergei Ivanov (file photo) (Trend) January 19, 2007 -- Russian Deputy Prime Minister and Defense Minister Sergei Ivanov today dismissed as "rumors" reports that China had shot down a satellite for the first time.
China denies carrying out such a test, although officials in Australia, Japan, North Korea, Taiwan, and the United States have expressed concern about what several of them suggested was a step toward the militarization of space.
"I have heard such reports, and they are quite abstract," Ivanov said. "I'm very much afraid they don't have [any] basis -- as you say that they are antisatellite and so on. I'm afraid it's not true. And perhaps I'm not even afraid, but it is good that it is not true."
Ivanov added that Russia remains opposed to "any form of the militarization of space."
The U.S. magazine "Aviation Week and Space Technology" first reported the strike, which was confirmed by U.S. intelligence agencies. If true, China would be the third country after the United States and the former Soviet Union to shoot down an object in space.
(compiled from agency reports)