Thousands Of Iraqis Demonstrate In Al-Basrah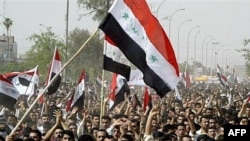 The protest in Ba'qubah today (AFP) April 16, 2007 -- Thousands of Iraqis have marched peacefully through the streets of the southern city of Al-Basrah to demand the resignation of a provincial governor.
Residents have complained of inadequate electricity, garbage disposal, and water supplies. Demonstrators gathered near an Al-Basrah mosque, then marched to the governor's office, which was surrounded by Iraqi soldiers and police.
Protesters are now calling for a three-day sit-in in front of the governor's office starting April 17.
Meanwhile, the U.S. military says its forces killed three Iraqi police officers today in a case of friendly fire during a raid near Al-Ramadi, 115 kilometers west of the capital, Baghdad.
The military said U.S. troops came under small-arms fire from men they believed to be insurgents, and returned fire. The three men killed were later identified as Iraqi police officers. The incident is under investigation.
Iraqi police say at least 13 Iraqi soldiers were killed today when gunmen ambushed their military checkpoint near the northern city of Mosul.
Said Ahmed al-Jiburi, director of the Ninawa Governorate police, said the ambush occurred in the Al-Abdaiyah area of Mosul, a mostly Sunni city 360 kilometers northwest of the capital, Baghdad.
(AP, AFP)