'Urgent Measures' Needed To Help Displaced Iraqis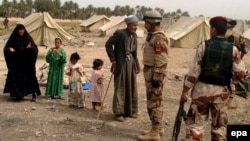 Displaced Iraqis near Ba'qubah (file photo) (epa) April 16, 2007 -- Amnesty International today warned of a new humanitarian crisis in the Middle East unless governments take urgent measures to help some 4 million displaced Iraqis.
The group said Syria and Jordan need direct assistance in order to provide housing, food aid, and health care to some 2 million refugees.
Nearly 2 million more Iraqis are displaced within their home country, the report said.
The appeal came a day before the start of an international conference in Geneva on Iraqi refugees.
(AP, Reuters)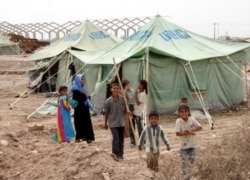 Children at an Iraqi camp for displaced people outside Al-Nasiriyah in May 2006
REFUGEES FLEE SECTARIAN VIOLENCE The UN High Commissioner for Refugees has estimated that over 2 million Iraqis have fled sectarian violence for Jordan, Syria and other neighboring states, while an equal number may be internally displaced within Iraq..... (more)
RELATED ARTICLES
Neighboring States Call For Help With Refugees
Refugees Under Pressure in Syria, Jordan, Lebanon
Displacements Upset Religious, Ethnic Communities
Official Says Refugees To Get New Passports Soon