EU Worried By World Bank Dispute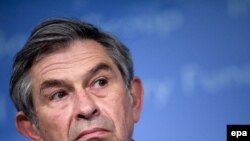 Paul Wolfowitz meeting with reporters on April 15 in Washington (epa) April 16, 2007 -- The European Commission says it is concerned over the controversy surrounding World Bank President Paul Wolfowitz, and expressed hopes it will not harm plans to boost cooperation between the two bodies.
Wolfowitz has said he will not resign over a promotion he approved for his girlfriend, despite increasing fears among bank-member governments that the affair is hurting its image as an agency that is tough on corruption.
A spokesman for the EU Aid Commission, Louis Michel, said the commission is concerned about the allegations and is monitoring the situation.
Wolfowitz has come under fire for the high-paying promotion he agreed for his girlfriend, bank employee Shaha Riza.
A number of European countries have raised concerns about the affair but none has publicly called for the dismissal of Wolfowitz.
(Reuters)