Reporters Without Borders (RSF) says two journalists -- Mahbubeh Hosseinzadeh and Nahid Keshavarz -- have been arrested and held for nearly two weeks after covering a demonstration calling for the repeal of laws that discriminate against women.
The Paris-based organization says five women journalists -- Asieh Amini, Jila Bani Yaghoub, Jelveh Javaheri, Nushine Ahmadi Khorasani, and Sussan Tahmassebi -- have been summoned before the Tehran Revolutionary Court and charged with "attacking national security," "publicity against the Islamic Republic," and "participating in an unauthorized demonstration."
Parnaz Azima, a broadcaster with Radio Farda, the Persian-language service run jointly by RFE/RL and Voice of America, has also been barred from leaving the country. Azima told Radio Farda today that all efforts to get her Iranian passport back have failed.
"It's my right [to travel to Iran]," Azima said. "Anyone has the right to go to his country and not be harassed unless it's a criminal who has committed a crime and been convicted. I'm really surprised that [officials] behave like this without any reason."
Azima had her passport seized when she arrived in Tehran nearly three months ago to visit a sick relative.
Women In Iran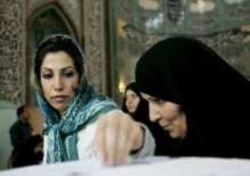 Women in Tehran (epa file photo)

CALLING FOR MORE RIGHTS: Although women played key roles in Iran's 1979 Islamic Revolution, the place of women in post-revolutionary society has been a vexing question. Iranian women have struggled to bring attention to their calls for greater rights in their country's rigid theocratic system, calls that have often clashed with the values proclaimed by conservatives in society. (more)
RELATED ARTICLES
Tehran Police Renew Campaign To Combat 'Un-Islamic' Dress
Iranian Peace Prize Laureate Shirin Ebadi On Women's Rights
Activists Concerned About Self-Immolation Of Iranian-Kurdish Women
The Younger Generation's 'Tehran Blues'
ARCHIVE
RFE/RL's coverage of Iran. RFE/RL's coverage of issues concerning women throughout our broadcast area.

SUBSCRIBE
For a regular review of civil-society developments throughout RFE/RL's broadcast region, subscribe to "RFE/RL (Un)Civil Societies."