RFE/RL: Did "The Guardian" misrepresent your comments? Did you use the word "violence" in calling for the overthrow of the Putin regime?
Boris Berezovsky: I want to say that it may be that my English is significantly worse than my Russian. And for that reason, when I said "force," I meant a forceful takeover of the regime. It's what I said more than a year and a half ago, and I'm not going to change my position. I do in fact consider this to be a criminal regime; the regime in Russia is criminal. I believe that there is no way possible to change this regime through democratic procedures like elections.
RFE/RL: What do you mean by forceful takeover of the regime?
Berezovsky: The events in Ukraine, for example, the events in Georgia... this is an example of my understanding of a forceful takeover of a regime. When it's the street, the square, that is putting pressure on the powers, forceful pressure, with the goal of changing the regime. I want to stress that this president, who today is absolutely illegitimate -- by this I mean Putin -- even this illegitimate president admitted the legality of what took place in Georgia, and congratulated [Mikheil] Saakashvili when he became president.
RFE/RL: And in Ukraine in 2004?
Berezovsky: It took three times, but [Putin] recognized what had taken place in Yushchenko, and in the end he congratulated [Viktor] Yushchenko. Two times he congratulated [Viktor] Yanukovych on winning the presidency. Our Putin is a little crazy, he doesn't always understand reality. But the third time around, he finally congratulated Yushchenko. This means that Putin himself admits that this approach to regime change is legitimate.
RFE/RL: Let's talk about another public movement -- the March of Dissent opposition rally in Moscow. There were 1,500 people participating, and by comparison there were 9,000 police.
Berezovsky: It's paranoia. In Nizhny Novgorod [where March 24 opposition protests were forcibly dispersed] there were several hundred protesters, and the authorities sent out 20,000 OMON special forces, police officers, et cetera. It's paranoia. They're afraid. The problem is that the authorities are stupid. They can't afford for there to be anything unexpected in such events. And so they're afraid of any event that they haven't organized themselves.
RFE/RL: Boris, please tell me; the unseating of one part of the political elite by another part of this elite, is that a form of revolution, is it free elections?
Berezovsky: No, it is not free elections. Free elections in Russia are impossible. And what's happening today on the streets of Moscow emphasizes the fact that the authorities are in a panic about any kind of free expression of the population's will, even if that part of the population is very small.
RFE/RL: Are you not afraid that, let's suppose, 10,000 people might come out onto the streets and not just a thousand, like in Moscow last time, and that these people will simply fall victim to the authorities' use of force?
Berezovsky: You know, in fact this is the choice of every citizen -- to go out onto the streets or not to, why should I fear for them? I appeal to Russians, I appeal to them to come out onto the streets to express their free will.... Russian citizens are allowed to take to the streets. And when the authorities say that only seven people attended a demonstration, or only five, they just don't understand that these seven or five represent that part of society that understands the danger of the authorities and that are ready to fight for the future of Russia. And so I think that for the authorities a critical mass -- roughly speaking that's 30-40,000 people in Moscow -- means that the authorities will not withstand the pressure.
RFE/RL: Your critics say that you cultivate myths about the fact that there's some kind of plot brewing in Putin's inner circle.
Berezovsky: I always answer for what I have said. Let me emphasize this point: I have called for, and I continue to call for, the forceful overthrow of the authorities. And the reaction of the authorities to this appeal in my interview in "The Guardian" demonstrates that the authorities are afraid of any event that they cannot control. I call for the forceful overthrow of the authorities. There is no other way to change this anticonstitutional regime in Russia.
RFE/RL: Boris Abramovich, I must draw attention to the fact that you said the word 'coup.' Does that mean that at the top there are people who don't hold the same views as Vladimir Putin, but who hold views closer to yours? Are these real people, who are prepared to take action? Or is it something else -- is it a virtual threat?
Berezovsky: First of all, I never used the word 'coup,' it's you who used this word. I said 'the forceful overthrow of power'. But this force, it is a real force. Because it is impossible to change an authoritarian regime with democratic means. Secondly, of course I can confirm that I am in collusion with people from Putin's close circle with the intention of overthrowing Putin's anticonstitutional regime.
RFE/RL: And restoring the constitution?
Berezovsky: You are quite right, restoring the constitution of 1993, which was approved by the majority of Russian citizens with their own free will.
RFE/RL: But inside Russia, these marches, your statements, alleged foreign interference is being hawked to the people for the Kremlin and its boss to railroad through a third term. That is also true.
Berezovsky: You know, a third term would in fact be inevitable for this authoritarian regime. So however much they try to deny the fact, you should refer to my words, have a look at what I said in 2002, not 2007, but 2002. At that time I said that an authoritarian regime had no chance of not remaining in office, in violation of the fundamental basis of the constitution. And so Putin is trying to, and it may even be that I'm not correct here, he is not trying to do but he has wound up in the situation he has wound up in, and he has got stuck. Because an authoritarian regime has no chance not to try to remain in power, because it is criminal and sooner or later it will realize that it is criminal. If Putin were to leave office today, and become the president of Gazprom, for example, he already knows that he will be tried for his crimes in Chechnya, that he was responsible for the murder of Alexander Litvinenko, that the government machine did nothing. Therefore he should take care of himself, physically take care of himself, his children and his family. And this is the fate of any authoritarian regime, which is unable to transfer to anyone the function of protecting itself physically.
RFE/RL: Is that to say that he must continue as president, or can he trust a successor to do this?
Berezovsky: He could never trust a successor to do this, he has to preserve power. In what form? Whether it is in the form of presidential authority or in the form of prime minister, after transforming Russia from a presidential republic to a parliamentary one -- that's something completely different. I will state once again: he needs to preserve his power in its entirety in order to protect, physically, his own life.
FURTHER READING
'Their Own Law'

Former presidential adviser Andrei Illarionov tells RFE/RL that a new ideological regime has emerged in Russia.

more

Mikhail Kasyanov Warns Of Crisis

Former Prime Minister and presidential hopeful Kasyanov tells RFE/RL that Russian civil society must not be silent now.

more
Democracy In Russia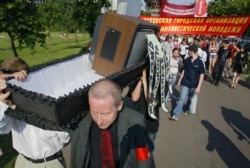 Demonstrators in Moscow carry a coffin with a television in it to protest government control over broadcasting (TASS file photo)


DO RUSSIANS LIKE THEIR GOVERNMENT? During a briefing at RFE/RL's Washington office on November 15, Richard Rose, director of the Center for the Study of Public Policy at the University of Aberdeen, discussed the results of 14 surveys he has conducted since 1992 on Russian public opinion about democracy and the country's development. He discussed the implications of these opinions for relations with the West and for Russia's 2008 presidential election.
LISTEN
Listen to the complete discussion (about 42 minutes):

Real Audio
Windows Media
RELATED ARTICLES
U.S. Election Expected To Chill Relations With Moscow
Are Mayors Next 'Power Vertical' Victim?
Monarchist Nostalgia Remains Powerful
Russian Election Commission Rejects Third-Term Appeal
Romanov Burial May Be Part Of Kremlin Image Campaign
ARCHIVE
All of RFE/RL's English-language coverage of
Russia
.


UPDATED CONSTANTLY: Visit RFE/RL's Russian-language website, featuring news, analysis, features, streaming audio, and more, in Russian, from RFE/RL's Russian Service.