The presidential office made the announcement today.
The three nominees need to be confirmed by parliament before the Constitutional Court can assess proposed constitutional changes. Parliament will then be able to debate the draft.
Meanwhile, thousands of opposition supporters were rallying for an eighth day in Bishkek to demand early presidential elections and constitutional reforms.
At a news briefing in the Kyrgyz capital, visiting U.S. Deputy Assistant Secretary of State for South and Central Asian Affairs Evan Feigenbaum called on all sides to act within the law.
"Today, there is a debate in the country about the future of Kyrgyzstan," Feigenbaum said. "Our message to all sides of the political debate in Kyrgyzstan is the same, and our message is that we hope all sides will conduct themselves in a way that is peaceful and nonviolent, legal, constitutional, and that both reflects and strengthens the rule of law."
Feigenbaum has held talks with President Bakiev, parliament speaker Marat Sultanov, and opposition leader Feliks Kulov.
(with material from Interfax)
Turmoil In Kyrgyzstan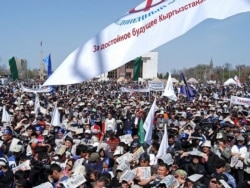 Opposition protests in Bishkek on April 11 (TASS)

TAKING TO THE STREETS. Edil Baisalov, president of the largest grassroots network in Kyrgyzstan, discussed the political turmoil in Kyrgyzstan at an RFE/RL briefing in Washington. He addressed the question of whether the unrest is a healthy democratic process or a bid to derail the country's fragile democratic transition.
LISTEN
Listen to the entire briefing (about 70 minutes):

Real Audio
Windows Media
RELATED ARTICLES
Protests Gain Steam Ahead Of Major Antigovernment Rally
Political Future Uncertain As Premier Steps Down
Revolution Anniversary Highlights Political Failures
Aksy Commemoration A Key Test For Bakiev
ARCHIVE
RFE/RL's coverage of
Kyrgyzstan
. The Kyrgyz-language website of
RFE/RL's Kyrgyz Service
.
SUBSCRIBE
For regular news and analysis on all five Central Asian countries by e-mail,
subscribe to "RFE/RL Central Asia Report."