The amendments to Russia's Criminal Code provide for up to three years' imprisonment for politically or ideologically motivated vandalism.
The legislation could allow the authorities to punish participants in opposition protests should they turn violent. The changes came days after police violently broke up opposition demonstrations in Moscow on April 14 and St. Petersburg on April 15.
The amendments also provide for stiff fines for those selling or manufacturing products with Nazi symbols. It also increases the prison sentences for desecrating graves or human bodies from three years to five years.
(AP, Interfax)
Russia's NGO Law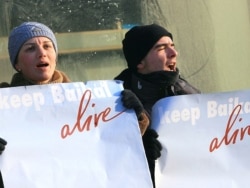 Russian environmental activists demonstrate in February 2006 against a proposed oil pipeline that they believe would have harmed Lake Baikal (TASS)


CLAMPING DOWN ON ACTIVISM. The authors of a report on Russia's controversial law on nongovernmental organizations issued by the U.S. Commission on International Religious Freedom told an RFE/RL briefing in Washington that the law places "disturbing" restrictions on NGOs.
LISTEN
Listen to the entire briefing (about 75 minutes):

Real Audio
Windows Media
RELATED ARTICLES
Foreign NGOs Rush To Beat Registration Deadline
Scrutiny Of Foreign Funds Hurts Democracy Programs
Spy Scandal Highlights Mounting Pressure On NGOs
U.S. Official Says New NGO Law Part Of Antidemocratic Trend

SUBSCRIBE
For a regular review of civil-society developments throughout RFE/RL's broadcast region, subscribe to "RFE/RL (Un)Civil Societies."