In excerpts of a speech he is due to deliver later today at a conference in Italy, Mandelson says trust between the European Union and Russia has reached its lowest level since communism's collapse.
Mandelson, a key figure in Russia's bid to join the World Trade Organization (WTO), said both the European Union and Russia suspect each other of using energy policy as a political weapon.
"Russia needs to be in the WTO," he said, but he urged Moscow to adopt transparent rule of law and stem state influence on the economy.
Clear rules, he added, to allow investments to flow easily between Russia and the EU would interlock markets and deepen stability.
(Reuters, AP)
Russia And The EU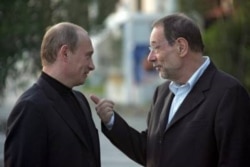 Russian President Vladimir Putin (left) with EU foreign policy representative Javier Solana in Sochi in May 2006 (epa)


A POLICY OF APPEASEMENT? Ralf Fuecks, head of the Heinrich Boell Foundation and a Green Party activist, spoke at RFE/RL's Prague broadcast center about the EU's complex relations with a resurgent Russia. RFE/RL President Jeff Gedmin moderated the discussion.
LISTEN
Listen to the entire briefing (about 60 minutes):

Real Audio
Windows Media
RELATED ARTICLES
Moscow Hosts PACE Standing Committee
Brussels Mulls Over Its Energy Sources
Council Of Europe 'Convinced' Of Chechnya Torture
ARCHIVE
RFE/RL's coverage of
Russia
.