The night on April 19 saw clashes between opposition protesters and
police in Bishkek. At least 34 demonstrators were detained after young
people threw stones and bottles at police guarding the government
building.
Opposition leaders say the clashes were instigated by provocateurs.
Opposition activists had been protesting since April
11, calling for the resignation of Kyrgyz President Kurmanbek Bakiev
and implementation of constitutional reforms.
Kulov, the leader of the opposition United Front for a Worthy Future for Kyrgyzstan, refused summons to appear for questioning on April 20. When law enforcement officers came to his home in the village of Baitik
outside the capital, Kulov's supporters did not allow the officers to arrest him.
Some 100 supporters gathered nearby as he arrived at the headquarters of the National Security Committee today.
After his questioning, Kulov denied the charges against the rally organizers, and accused the authorities of causing the disturbances in order to disrupt a peaceful rally.
Security Committee chief Murat Sutalinov said on April 20 that other leaders of the United Front were summoned, but did not say who had come.
Kyrgyz authorities today said that citizens can continue to assemble and protest peacefully, but within the framework of the law.
Meanwhile, opposition leaders have called off the protests.
Turmoil In Kyrgyzstan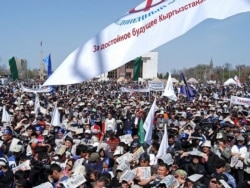 Opposition protests in Bishkek on April 11 (TASS)

TAKING TO THE STREETS. Edil Baisalov, president of the largest grassroots network in Kyrgyzstan, discussed the political turmoil in Kyrgyzstan at an RFE/RL briefing in Washington. He addressed the question of whether the unrest is a healthy democratic process or a bid to derail the country's fragile democratic transition.
LISTEN
Listen to the entire briefing (about 70 minutes):

Real Audio
Windows Media
RELATED ARTICLES
Protests Gain Steam Ahead Of Major Antigovernment Rally
Political Future Uncertain As Premier Steps Down
Revolution Anniversary Highlights Political Failures
Aksy Commemoration A Key Test For Bakiev
ARCHIVE
RFE/RL's coverage of
Kyrgyzstan
. The Kyrgyz-language website of
RFE/RL's Kyrgyz Service
.
SUBSCRIBE
For regular news and analysis on all five Central Asian countries by e-mail,
subscribe to "RFE/RL Central Asia Report."