Bush rejected comments made on April 19 by Senate Majority Leader Harry Reid (Nevada, Democrat), who said the Iraq war is "lost" and a troop buildup in Baghdad was "not accomplishing anything."
However, U.S. Defense Secretary Robert Gates, on a surprise visit to Iraq, said on April 20 that the U.S. commitment to the war is not open-ended.
But Gates said it's too early to say whether a new U.S. drive to establish security in Baghdad is working.
"We will just see where the situation is at the end of the summer when, as [top U.S. military commander in Iraq] General [David] Petraeus and I have repeatedly said, we would be making at least a preliminary evaluation of where things stand with the Baghdad security plan, and the surge, and the development of reconciliation here, and as I've said so many times whatever recommendations we make will be based on the situation here in Baghdad and the situation on the ground," Gates said.
Gates' visit came after bombers this week killed more than 200 people in attacks mainly in Baghdad, and one week after a deadly bombing inside the Green Zone.
In Iraq today, one U.S. soldier was killed and two were wounded by a roadside bomb outside Baghdad. The U.S. military said the soldiers were conducting a foot patrol when they were struck by a roadside bomb about 24 kilometers southwest of Baghdad.
Separately, a Polish soldier was killed in an explosion while on nighttime patrol in Iraq's central city of Al-Diwaniyah. Some 750 Polish soldiers are currently on duty in Iraq.
Also, at least three people were killed when a bomb left on a minibus exploded in Baghdad's Shi'ite-populated Al-Sadr City district.
In Kirkuk, 290 kilometers north of Baghdad, gunmen stormed a house, killing a mother, father and their two teenage daughters.
The victims were Kurds who had reportedly received death threats from Al-Qaeda-linked militants operating in the area.
(compiled from agency reports)
Khamail Muhsin Khalaf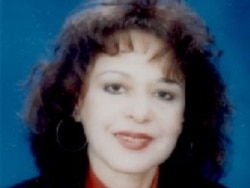 DEDICATED JOURNALIST: On April 5, the worst fears of the family and acquaintances of RFE/RL's Radio Free Iraq correspondent Khamail Muhsin Khalaf were realized when her body was recovered not far from her Baghdad home.
News of Khamail's death at the hands of her abductors elicited outrage and sorrow, and a vow by Iraq's Interior Ministry to bring to justice the killers of a woman who had "served Iraq for more than 30 years."
Khamail's husband, Muhammad, cited his late wife and mother of their three children's dedication to her work: "Even when she was ill, even when she was facing hard situations, even when she had family or social problems, her duty and attendance at work were most important."
Khamail's mother described the difficulty that authorities encountered even retrieving her daughter's body: "The police said that when commandos tried to clear the body from the street, gunmen were awaiting them and a shootout took place. The police commandos succeeded in clearing the body to Al-Yarmuk Hospital. I, her brother and his wife, and her uncles, we buried her, and here we are mourning her."
Please see:
Radio Free Iraq Reporter Found Dead In Baghdad
Iraqi Authorities Vow Justice For Journalist's Killers
Iraq: The True Voice Of Simple Iraqi People