The United Nations High commissioner for Refugees (UNHCR) estimates that 40,000 to 50,000 Iraqis flee their homes each month to escape fighting and sectarian violence. Some of them become internally displaced. Others manage to flee abroad
UN High Commissioner for Refugees Antonio Guterres called Iraq's decision "a major step forward to allow for people to keep their hope alive."
United States Agrees To Resettle Thousands
Speaking at the end of a two-day international conference on the fate of the nearly 4 million Iraqis who have abandoned their homes, Guterres said Baghdad's pledge to spend $25 million on Iraqis in Syria and Jordan was "a major change in the pattern of relations in the region and in the prospects for refugees in the area."
The money will help provide education, health care, and housing for refugees.
Iraqi Foreign Minister Hoshyar Zebari told reporters that his "government embraces its duty toward its citizens, wherever they are, and we will not abandon them."
Although few pledges were made during the conference, which was attended by representatives of 60 countries, the United States said it expects the UNHCR to refer some 7,000 of the most vulnerable refugees for permanent resettlement by the end of September.
Ellen Sauerbrey, the head of the U.S. State Department's refugee affairs bureau, said the United States has up to 14,000 spots available, depending on UNHCR referrals.
The United States also pledged $18 million toward the UNHCR's appeal for $60 million for its Iraq operation this year.
Twenty Percent Of Iraqis Have Fled
At the start of the Geneva conference on April 16, UN Secretary-General Ban Ki-moon urged the international community to increase its aid for Iraqi refugees.

Ban said in a video message to participants that Iraq's neighbors -- Jordan and Syria -- should keep their borders open and uphold the principle of no forced return of refugees.


The UNHCR says that to date, some 750,000 Iraqis have fled to Jordan and more than 1 million have gone to Syria. Overall, almost 2 million Iraqis have left the country since the U.S.-led invasion in 2003.
In addition, according to the agency, almost 750,000 Iraqis have been uprooted but have stayed inside Iraq since the beginning of 2006, bringing the number of internally displaced people to an estimated 1.9 million.
In total, this means that about a fifth of Iraq's people have been forced out of their homes since the war began.
The director-general of the International Committee of the Red Cross, Angelo Gnaedinger, says it is not surprising, as the humanitarian situation in the country is extremely bad.
"Bombings, suicide attacks, shootings, abductions, murders, the destruction of civilian property, and forced displacements are a daily reality for millions of Iraqis," Gnaedinger said. "In this dreadful situation, and after years of violence, one wonders if a single Iraqi family has been spared human and material loss and their accompanying physical and psychological scars."
Clean Water Crisis
Guterres told the conference that the international community has paid too little attention to the refugee crisis.
"If this massive displacement [of Iraqis] has gone largely unnoticed, it is, in part, because most of those fleeing are not going to highly visible camps, but are being absorbed by host communities in Iraq and in neighboring states," Guterres said. "It is the biggest urban caseload ever dealt with."
Representatives of the World Health Organization also noted at the conference that even for those Iraqis who have not been forced from their homes, the health situation is worsening by the day.
According to a 2006 national survey, 21 percent of Iraqi children are now chronically malnourished. A stunning 70 percent if Iraqis lack regular access to clean water and 80 percent lack effective sanitation.
The London-based rights group Amnesty International on April 16 said in a statement that "the Middle East is on the verge of a new humanitarian crisis." It urged the European Union, the United States, and other countries to take urgent and concrete measures to assist people forcibly displaced by the conflict in Iraq.
The U.S.-based group Human Rights Watch (HRW) said the United States and Britain bear the biggest responsibility for helping displaced people inside and outside Iraq.
HRW refugee director Bill Frelick in a statement that the two countries "undertook a war that has directly caused thousands of deaths, widespread fear and suffering, and forced displacement."
Iraq's Refugee Crisis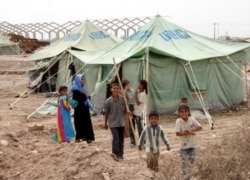 Children at an Iraqi camp for displaced people outside Al-Nasiriyah in May 2006
REFUGEES FLEE SECTARIAN VIOLENCE The UN High Commissioner for Refugees has estimated that over 2 million Iraqis have fled sectarian violence for Jordan, Syria and other neighboring states, while an equal number may be internally displaced within Iraq..... (more)
RELATED ARTICLES
Neighboring States Call For Help With Refugees
Refugees Under Pressure in Syria, Jordan, Lebanon
Displacements Upset Religious, Ethnic Communities
Official Says Refugees To Get New Passports Soon