In a video address to the conference today, UN Secretary-General Ban Ki-moon urged the countries bordering Iraq to keep their borders open, and to provide protection and assistance to Iraqis.
"This is a very significant meeting. I think we've come here with a very clear message, that these are our people, that the Iraqi government will take its lead, will take the lead in addressing the needs of its people, and we will not abandon them, and we have concrete ideas," Iraqi Foreign Minister Hoshyar Zebari said today. "We will raise them here."
"We think it's important, it's an opportunity for all the participants to come together and to discuss the situation of the Iraqi refugees, the internally displaced Iraqis, and we think there's a very good agenda," U.S. Undersecretary of State Paula Dobriansky told reporters today as she arrived at the conference.
The United Nations High Commissioner for Refugees (UNHCR) estimates that 40,000 to 50,000 Iraqis flee their homes each month to escape fighting and sectarian violence. Some of them become internally displaced, while others manage to flee abroad.

The UNHCR says that to date, some 750,000 Iraqis have fled to Jordan and more than 1 million have gone to Syria. On the whole, almost 2 million Iraqis have left the country.

In addition, according to the agency, almost 750,000 Iraqis have been uprooted but have stayed inside Iraq since the beginning of 2006, bringing the number of internally displaced to an estimated 1.9 million.

In total, this means that about a fifth of Iraq's people have been forced out of their homes since the war began.
Delegates from Human Rights Watch at the Geneva conference said the countries that led the 2003 invasion bear the greatest responsibility to help Iraqis displaced by the war.

Human Cost Of War

Marco Roggia, a spokesman for UNHCR's Iraq operation in Amman, Jordan, tells RFE/RL that although the situation in Iraq has received a lot of coverage from the security, political, and military points of view, there is still not enough attention being paid to the plight of refugees.

"So far very little -- in relative terms -- has been said in relation to the humanitarian situation and in particular the situation of the people who have been displaced by violence and insecurity," Roggia says. "And this is particularly important after March 2006, when the bombing in Samarra triggered a new wave of ethnic- and religious-based violence."

Roggia says the conference is not only an effort to attract world attention to the problem. He says the UNHCR wants "these actors, participating in the conference, to make a deal and forge an international partnership to help Iraqis inside Iraq and outside Iraq -- [to help] the refugees. So we really hope that this conference will be a forum where all different actors will have a possibility to express in a very frank way their views and then to look for solutions."

Impressive List Of Participants

"First of all, we have a delegation from the Iraqi government," Roggia notes. "We have a vice minister, if I am not mistaken, from Syria. From the U.S. government, we have representation at the level of secretary of state. The minister for migration and asylum of Sweden is also attending. Then we have the special representative of the [UN] secretary-general attending together with his humanitarian deputy.

Other UN and other international organizations are attending on different levels. Roggia says that representatives of some 60 nongovernmental organizations are present at the conference.

The conference takes place as pressure is growing to do more for Iraqi refugees.

The London-based rights group Amnesty International on April 16 said in a statement that "the Middle East is on the verge of a new humanitarian crisis." It urged the European Union, the United States, and other countries to take urgent and concrete measures to assist people forcibly displaced by the conflict in Iraq.

Iraq's Refugee Crisis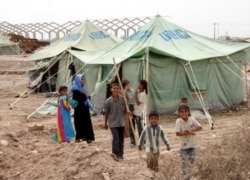 Children at an Iraqi camp for displaced people outside Al-Nasiriyah in May 2006
REFUGEES FLEE SECTARIAN VIOLENCE The UN High Commissioner for Refugees has estimated that over 2 million Iraqis have fled sectarian violence for Jordan, Syria and other neighboring states, while an equal number may be internally displaced within Iraq..... (more)
RELATED ARTICLES
Neighboring States Call For Help With Refugees
Refugees Under Pressure in Syria, Jordan, Lebanon
Displacements Upset Religious, Ethnic Communities
Official Says Refugees To Get New Passports Soon