At Least Four Killed At Islamist Rally In Pakistan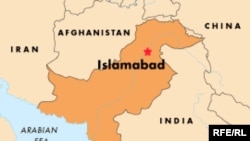 (RFE/RL) April 23, 2007 -- At least four supporters of an Islamic cleric in Pakistan were killed today during a clash with security forces in the northwestern tribal town of Bara.
Shooting broke out during a rally by several hundred supporters of Lashkar-e Islami.
They were protesting the April 20 demolition of a building used as a base by Mufti Munir Shakir, who has been calling for the implementation of Islamic law in that part of Pakistan.
Local police say some armed members of the group were trying to march on the home of a rival cleric -- Pir Saifur Rehman, leader of the group Ansar-ul-Islam.
(AP, AFP)