Afghanistan: NATO Pleased With Offensive, But Goals Still Unmet
British Royal Marines fighting Taliban forces near Kajaki dam earlier this year (epa) March 27, 2007 (RFE/RL) -- NATO commanders say they are pleased with the initial results of their spring offensive in southern Afghanistan.
A month into the operation, NATO commanders say their deployment of several thousand NATO and Afghan troops is eroding the ability of the Taliban to fight.
Major General Ton van Loon, the southern command chief of the NATO-led International Security Assistance Force (ISAF), said Operation Achilles is "delivering positive results" and has put the Taliban on the defensive.
Bringing Dam's Benefits To Province
It is NATO's first broad assessment of Operation Achilles since early March, when NATO Secretary-General Jaap de Hoop de Scheffer announced that the offensive was aimed at protecting the Kajaki hydroelectric dam in Helmand Province.
"The aim of the operation is to create security -- more security -- in the south, and in particular, to allow [for] the installation of a turbine in the Kajaki dam."
"[Some] 4,500 NATO troops with 1,000 Afghan national security forces are active there and they focus on Helmand Province in the southern part of Afghanistan," de Hoop Scheffer said. "The aim of the operation is to create security -- more security -- in the south, and in particular, to allow [for] the installation of a turbine in the Kajaki dam."
There are more than 14,000 reconstruction projects under way in Afghanistan. But Hoop de Scheffer says the Kajaki dam has the most strategic and psychological significance. That's because of the economic benefits residents of the area are expected to reap once reconstruction is finished.
"When the turbine in that dam is [installed] it will give power to 2 million people and their businesses. It will provide irrigation for hundreds of farmers. And it will create jobs for 2,000 people," de Hoop Scheffer said. "The Taliban, the spoilers, are attacking this project every day to [try to] stop it from going forward."
Taliban Still Fighting
Despite NATO's positive assessment of the offensive so far, Afghan Defense Minister Rahim Wardak warns that Taliban fighters continue to control about one-third of the territory in northern Helmand Province. That includes positions in the districts of Kajaki, Musa Qala, Nawzad, Baghran, and Sangin.
Some analysts are skeptical about NATO's claims of success when there are still such large swaths of territory in which the Taliban can operate.
RFE/RL Afghanistan analyst Amin Tarzi says NATO's assessments about Operation Achilles need to be measured against the objectives that where announced at the start of the offensive.
"The stated objective of NATO was that this operation is to bring peace and security to the Kajaki area, where the dam is, to enable reconstruction. They want to show a major effort of a reconstruction project, which would give electricity to a major part of northern Helmand and Kandahar," Tarzi says.
"There is an underlying objective, which was also to clear out the Taliban from holding the district of Musa Qala, which is just west of Kajaki," he continues. "Have they achieved the stated objective of clearing out enough of the Taliban in Kajaki to start reconstruction? The answer is a clear 'no.'"
Afghan Forces Improving
One measure by which NATO is claiming success is the killing of more than 100 Taliban fighters in the past week by Afghan government troops. The Afghan troops were fighting in three districts of Helmand independently from NATO ground forces.
To be sure, NATO's combat infrastructure was used by the Afghan troops during that fighting -- including the use of NATO's combat radio network and close air support from NATO war planes.
Nevertheless, Tarzi says the role of government troops in the spring offensive -- their most significant independent operation to date -- marks a significant step forward for the development of Afghan security forces.
"To enable Afghanistan to become a viable state and for civil society to come in, the most important key is enabling the Afghan national security forces -- the army and the police -- to be able to conduct operations and to provide day-to-day security. One day they have to do that without any NATO presence," Tarzi says.
"Of course, right now, the main thing is that NATO has [combat-radio] communications. But more important is the threat of NATO air cover. But the fact that they have actually been on the ground without any NATO ground forces [working with them] is a step forward," he notes.
Increased Violence

Major General van Loon says another reason he considers Operation Achilles a success is that NATO forces have encircled Taliban fighters and are preventing them from getting reinforcements from the neighboring provinces of Kandahar and Oruzgan or from across the border in Pakistan.
But the Taliban has responded by carrying out a series of suicide-bomb attacks across the south and east of the country -- about a dozen in the past week.
Last year saw the worst violence in Afghanistan since U.S.-led forces ousted the Taliban from power in late 2001.
More than 4,000 people died in fighting in 2006. Most were suspected Taliban fighters. But about 1,000 were Afghan civilians -- and many of them were killed by suicide bombers.
Experts say that regardless of the outcome of fighting near the Kajaki dam, the civilian death toll from combat and suicide bombings this year ultimately will become the comparison point that measures NATO's success.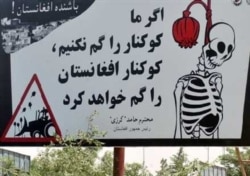 An antidrug billboard in Kabul shows a skeleton hanging from an opium bulb (AFP)
OPIUM FARMING ON THE RISE Despite a nationwide program by the Afghan government to eradicate opium-poppy fields and offer farmers alternative crops, international experts say that the 2006 opium crop will be as much as 40 percent larger than the previous year's. Afghanistan is the largest producer of opium in the world, and the source of as much as 90 percent of Europe's heroin.(more)
RELATED ARTICLES
Narcotics Supply Reduced, But Afghanistan Still Suffering
Saffron Could Help Wean Farmers Off Opium Poppies
Poppy-Eradication Drive Launched In Western Province
Insurgency Gains Ground As Poppy-Eradication Efforts Struggle
UN Drug Agency Promotes 'Alternative Development' For Curbing Poppy Cultivation
SUBSCRIBE
For weekly news and analysis on Afghanistan by e-mail,
subscribe to "RFE/RL Afghanistan Report."