The country is often described as the biggest jail for journalists in the Middle East and harassment of activists is a routine part of the political scene.
Increased Pressure
Yet observers say that in recent weeks state pressure on women's rights activists, students, and teachers has reached new heights.
"The resistance that the current movements are facing is like when you cut off the top part of a tree. There is no doubt that it will result in many branches growing from it."
Ali Afshari is a political activist and former student leader currently residing in the United States.
"The government feels threatened and because of that it has intensified its crackdown," Afshari said. "[Authorities] think that in this way they can create calm and remove the threats. On the other hand, social groups have realized that by remaining calm they cannot reach their demands, therefore they have increased their protests."
Just in the past week, some 10 women's rights activists have been summoned to court. Four have been sentenced to prison -- including two today -- while others were charged with "gathering and colluding to disturb the national security" and "disturbing public order."
On April 2, the government detained five women involved in the campaign to gather one million signatures in an effort to change laws deemed discriminatory against women. And last month, police arrested over 30 women's rights activists who had gathered in front of a Tehran court to peacefully protest against the prosecution of five other activists.
Arresting Student Activists
State pressure on student activists has also increased. A number of them have been banned from university classes and many have been summoned to court and disciplinary committees over their political and press activities.
Last week, 15 students at Mazandaran University were detained following protests of the sentences handed out by disciplinary committees to student activists at the university. Most of them have since been released.
Dozens of teachers have also been detained in recent weeks in connection with several demonstrations over low wages and poor working conditions.
On April 7, more than 40 teachers were detained in the city of Hamedan. Most were released shortly afterwards. On April 16, Ali Akbar Baghani, the head of Iran's Teachers Association, was detained while teaching at a school in Tehran. The association has been active in organizing teacher protests.
The wave of arrests, court summonses, and intimidation of activists has caused concern in Iran and also internationally with rights groups calling on Tehran to respect the rights of peaceful demonstrators.
State Subversion?
Amnesty International expressed concerned in an April 20 statement, stating that peaceful protesters have been increasingly targeted in Iran since Intelligence Minister Gholam Hussein Mohseni Ejeie publicly accused the women's movement and student campaigners of being part of an enemy conspiracy for a "soft subversion" of the government.
On April 23, Iran's largest reformist student group, Daftare Tahkim Vahdat, said Ejei's comments are a confirmation of the growing gap between the government and the Iranian people. The group condemned the increased pressure on activists as an attempt to eliminate all critical voices.
A leader of Daftare Tahkim Vahdat, Mohammad Hashemi, told Radio Farda that the crackdown on activists in connected with Iran's international problems.
"The establishment is doing its best to cover all its crises and problems it is facing on the international scene by cracking down on [critics] inside the country," Hashemi said.
Protesters Not Deterred
Afshari, who was jailed in Iran a number of times because of his political activities, believes the government's repressive measures are failing.
"You see women staging protests in front of the revolutionary court, despite the fact that they know they could be beaten up and dealt with [legally]; but they come to the scene, they know they will be summoned to the court but they don't pay attention to these problems," he said. "Students also know they have to pay a price [for their activism], but they continue their fight. This shows that the policies of cracking down on and creating problems [for protesters] have not been effective. They have had the opposite effect and led to the spreading of protests."
In Tehran, human rights lawyer Mohammad Ali Dadkhah tells RFE/RL that the tough measures used by the government will not succeed in silencing critics and activists.
Meanwhile, a protest at Shiraz University caused by the introduction of a new code of conduct has entered its third day today -- student activists there and at other universities show no signs that they will be dissuaded from protesting by state pressure. Likewise, women's rights advocates have also expressed a renewed determination to fight for their rights. And teachers demanding higher wages have also said they will continue their protest and strike in the coming weeks.
DISSENT IN IRAN
A Bid For Intellecutal Pluralism

Dissident philosopher Ramin Jahanbegloo tells RFE/RL that Iranian intellectuals must strive to avoid being cut off from global issues and debates.

more

Iranian Women Struggle To Be Heard

Prominent Iranian activist Mahboubeh Abbass-Gholizadeh tells RFE/RL that the protests of women's rights advocates can and do have an effect on the government's policies. But much remains to be done.

more
Women In Iran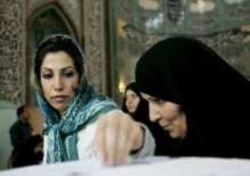 Women in Tehran (epa file photo)

CALLING FOR MORE RIGHTS: Although women played key roles in Iran's 1979 Islamic Revolution, the place of women in post-revolutionary society has been a vexing question. Iranian women have struggled to bring attention to their calls for greater rights in their country's rigid theocratic system, calls that have often clashed with the values proclaimed by conservatives in society. (more)
RELATED ARTICLES
Tehran Police Renew Campaign To Combat 'Un-Islamic' Dress
Iranian Peace Prize Laureate Shirin Ebadi On Women's Rights
Activists Concerned About Self-Immolation Of Iranian-Kurdish Women
The Younger Generation's 'Tehran Blues'
ARCHIVE
RFE/RL's coverage of Iran. RFE/RL's coverage of issues concerning women throughout our broadcast area.

SUBSCRIBE
For a regular review of civil-society developments throughout RFE/RL's broadcast region, subscribe to "RFE/RL (Un)Civil Societies."