A military orchestra played a funeral march as soldiers carried Yeltsin's coffin into Moscow's Novodevichy Cemetery, followed by his family, Russian Orthodox priests, Russian political and cultural elite, and dignitaries from across the world.
These included former U.S. Presidents Bill Clinton and George Bush, EU External Relations Commissioner Benita Ferrero-Waldner, and former British Prime Minister John Major.

A canon shot was fired and the Russian national anthem boomed across the cemetery as the coffin was lowered into the ground.
Religious Ceremony
Unlike most Kremlin leaders who were laid to rest on Red Square, Yeltsin was buried on the grounds of the 16th-century Novodevichy Monastery alongside eminent Russian writers, composers, and scientists.

It was the first time a Russian leader had been given a religious funeral in more than a century.
The burial followed a three-hour funeral service in Moscow's Christ the Savior Cathedral, a highly symbolic choice for the man who oversaw the dissolution of the Soviet Union.

The edifice was blown up by dictator Josef Stalin and the site was used as a swimming pool until Yeltsin ordered its reconstruction after the 1991 Soviet collapse.

A Russian Orthodox choir sang psalms and soldiers from the Kremlin regiment watched over the coffin.

In a message read out in the cathedral by a metropolitan bishop, Russian Patriarch Aleksy II praised Yeltsin for making Russia a free country.

Friends, Foes Pay Respects
Some of Yeltsin's former rivals put past grievances behind them and came to pay their final respects.

Aleksandr Rutskoi, a former Russian vice president and one of Yeltsin's chief opponents during the 1993 political crisis, spoke to Reuters earlier today outside the Christ the Savior Cathedral.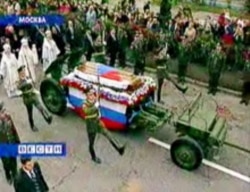 "I feel sorry for Boris Nikolayevich [Yeltsin] because I have always liked him as a human being and I still do, because he had all the qualities of a good person," Rutskoi said. "As for the past political situation, that is history and you can't escape it."
Thousands of mourners filed past Yeltsin's open coffin at the cathedral on April 24-25, many clutching flowers and weeping.

Some of the mourners told RFE/RL's Russian Service that they admired Yeltsin for bringing down the Soviet regime.

"I remember the year 1991, said one woman. "He gave us the feeling that we were human beings. That's the most important thing."

Troubled Legacy
But there was no national outpouring of grief, a reflection of the mixed feelings about Yeltsin's legacy.

Many Russians blame him for plunging the country into chaos and giving away Russia's riches to a well-connected few.

In a poll published by the Levada Center in early 2006, 70 percent of respondents said the Yeltsin era did more harm than good.

Putin has declared April 25 a day of mourning. Flags across the country are flying at half-mast and television channels have canceled entertainment programs.
Yeltsin In Depth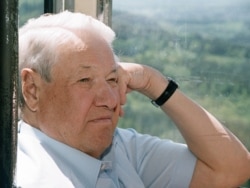 Viewpoint | Among Great Expectations Yeltsin Stood Alone
Viewpoint | Weighing The Yeltsin Legacy
Obituary | From Building Machines To Reshaping A Nation
From The Archive: Yeltsin Resigns
SUBSCRIBE
For news and analysis on Russia by e-mail,
subscribe to "RFE/RL Russia Report."