The meeting between EU foreign policy chief Javier Solana and Ali Larijani, the secretary of Iran's Supreme National Security Council, is taking place in Turkey's capital, Ankara.
Iran has given no sign ahead of the talks that it is prepared to halt uranium enrichment activities as demanded by the European Union, the United States, and the United Nations Security Council.
Major powers -- including the EU, the United States, Russia, and China -- have offered Tehran talks on a package of economic, civilian nuclear, and security incentives in exchange for halting enrichment.
Iran describes its nuclear program as peaceful and says its work is irreversible.
Iran has also rejected a proposal under which UN sanctions against Iran could be suspended in exchange for halting uranium enrichment.
(compiled from agency reports)

The Proliferation Threat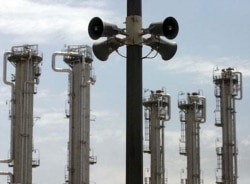 The Arak heavy-water plant in central Iran (Fars)


BENDING THE RULES. Henry Sokolski, executive director of the Nonproliferation Policy Education Center, told an RFE/RL-Radio Free Asia briefing on January 9 that the West is hamstrung in dealing with Iran and North Korea because of the way it has interpreted the international nonproliferation regime to benefit friendly countries like India and Japan.
LISTEN
Listen to the entire briefing (about 90 minutes):

Real Audio
Windows Media
RELATED ARTICLES
Iran, North Korea Present Proliferation Challenges
Tehran Watches As North Korea Tests Global Resolve
Rogue Nuclear Programs Threaten New Arms Race
Why Shouldn't Pyongyang Join Nuclear Club?