April 25, 2007: Former President Boris Yeltsin buried at Moscow's Novodevichy Cemetery following a religious ceremony at the Christ The Savior Cathedral. The day is declared an official day of mourning in Russia.
September 2005: Breaks a leg while vacationing in Sardinia.

January 30, 2001: Hospitalized with viral infection.

December 31, 1999: Stuns the nation by announcing his immediate resignation as president during a televised New Year's address. He appoints a hand-picked successor, Vladimir Putin, as acting president.

September 30, 1999: Starts second Chechen war after sending troops into the breakaway republic.

February 1999: Parliamentary panel finalizes impeachment charges against Yeltsin.
August 17, 1998:
Russian ruble is devalued dramatically, highlighting a financial collapse that erodes Yeltsin's support and results in a full-blown political crisis.
November 1996:
Undergoes quintuple bypass surgery.
July 1996:
Reelected as president.
December 11, 1994:
Launches first Chechen war by sending troops to the breakaway republic.
September 1993:
After Yeltsin dissolves parliament by decree, legislators barricade themselves inside the Russian White House and call for the government's overthrow. Yeltsin sends in tanks to crush the rebellion, the White House is shelled in October, and the rebellious legislators are arrested.
August 1991:
Soviet leader Mikhail Gorbachev's closest advisers try to depose him in an ineptly staged coup. Yeltsin memorably summons the resistance from atop a tank in Moscow, in the name of the Russian people.
June 1991:
Elected president of the Russian republic by popular vote.
July 1990:
Yeltsin terminates his Communist Party membership.
June 1990:
The Russian Republic declares its sovereignty within the Soviet Union.
May 1990:
Elected chairman of the Russian Republic's Supreme Soviet.
March 1989:
Elected to the Soviet Union's first democratically elected parliament, the Congress of People's Deputies.
October 1987:
Removed from his post as Moscow party boss and kicked out of the Politburo after delivering a scathing criticism of top party leaders before a plenary meeting of the Soviet Communist Party's Central Committee.
December 24, 1985:
Becomesfirst secretary of Moscow's Communist Party Committee.
1985:
Brought to Moscow and made a member of the Soviet Communist Party's Central Committee and of the Politburo.
1977:
Orders the destruction of Sverdlovsk's (now, Yekaterinburg) Ipatiyev House, where Tsar Nicholas II and his family were killed by Bolshevik troops in 1918.
1976:
Becomes first secretary of Sverdlovsk Oblast's Communist Party Committee.
1975:
Appointed secretary of a committee in charge of Sverdlovsk Oblast's industrial development.
1965:
Namedhead of the Sverdlovsk Housing Construction Combine.
1961:
Joins the Communist Party at the age of 31 and rises through the ranks of Sverdlovsk's party organization.
1963:
Named chief engineer after having moved back to his native Sverdlovsk Oblast to continue his construction.
1959:
The Yeltsins' second daughter, Tatyana, born.
1955-57:
Works as a construction foreman for Yuzhgorstroi Trust.
1957:
The Yeltsins' first daughter, Yelena, born.
1956:
Marries Naina Iosifovna Girina, whom he met as a student.
1955:
Graduates from Urals Polytechnic Institute's engineering faculty. While a student, Yeltsin plays professional volleyball for Sverdlovsk in the Soviet Union's top division.
Youth:
Blows off two fingers on his left hand while attempting to dismantle a live grenade.
February 1, 1931:
Born in the village of Butka, in Russia's Sverdlovsk Oblast.
Yeltsin In Depth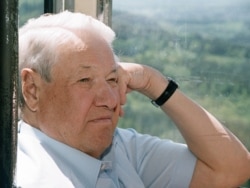 Viewpoint | Among Great Expectations Yeltsin Stood Alone
Viewpoint | Weighing The Yeltsin Legacy
Obituary | From Building Machines To Reshaping A Nation
From The Archive: Yeltsin Resigns
SUBSCRIBE
For news and analysis on Russia by e-mail,
subscribe to "RFE/RL Russia Report."