In a message released to mark today's 21st anniversary of the disaster, Ban said "science" has shown that a "return to normal life is a realistic prospect for people living in the Chornobyl-affected regions."
The explosion of reactor No. 4 on April 26, 1986, contaminated large areas of Ukraine, Belarus, and Russia in what is considered the world's worst nuclear power accident.
The initial explosion and subsequent release of radiation killed 31 people within the first two months of the disaster.
'Return to normal life is a realistic prospect for people living in Chornobyl.'
More than 300,000 people had to leave their homes around Chornobyl, in present-day Ukraine.
There is still a 30-kilometer zone around the plant that remains closed to the public.
'New Jobs, Fresh Investment'
Ban said that what is needed in the region is "new jobs, fresh investment, and the restoration of a sense of community and self-sufficiency."
On April 25, Ukrainian President Viktor Yushchenko said that the region around Chornobyl must be put to use again.
Speaking in Kyiv, Yushchenko said that he is "convinced that the Chornobyl zone is coming alive...and step by step, we will begin to develop the possibilities of this territory."
Yushchenko said that one project for the region being considered is a nature reserve. Since the accident, wildlife in the area has thrived, with the virtual absence of humans.
Experts and environmental groups differ on the number of long-term deaths caused by the Chornobyl disaster.
The UN has estimated that around 9,000 people will die from cancers caused by radiation from the plant. Other groups have said that the death count could in the future reach up to 200,000 people.
(compiled from agency reports)
FURTHER READING
Out Of Chornobyl's Shadow

The global nuclear industry was set back by Chornobyl, but now it seems to be coming back strong.

more

Feeding The Boom

China and India face massively growing energy demands. Is nuclear power the answer?

more
Chornobyl Contamination Zones
Chornobyl Contamination Zones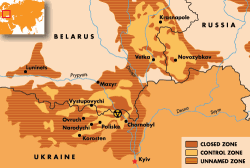 Click on the map to enlarge.

THE DIRTY ZONE: Within a month of the April 26, 1986, Chornobyl explosion, Soviet authorities had evacuated almost 120,000 people from a zone within 30 kilometers of the plant. However, contamination by radioactive isotopes, particularly cesium-137, which has a half-life of 30 years, spread over a much wider area.
The map above shows the four areas of cesium-137 contamination across Belarus, Russia, and Ukraine. The Closed Zone shows contamination more than 40 curies per square kilometer, the Control Zone includes the Permanent Control Zone (15-40 curies per square kilometer) and Periodic Control Zone (5-15 curies per square kilometer), and the Unnamed Zone shows contamination of 1-15 curies per square kilometer.

Click on the icon to view the slideshow