In between words of praise for Russia's economic and political achievements, Putin used his annual state-of-the-nation address to level an unambiguous warning to the West.
"It is time our partners made their own contribution to the reduction of armaments, by deeds, not words. Instead, they keep building up their armaments," Putin said in a nationally televised speech before Russia's Federal Assembly.
"It's time for them to contribute to armament reduction at least in Europe. I propose discussing this issue at the NATO-Russia Council, and if no progress is achieved in negotiations, I propose to consider discontinuing our obligations under the Conventional Forces in Europe Treaty."
The CFE Treaty, signed in 1990 and revised in 1999, commits 28 European states, the United States, and Canada to limiting military deployments across the continent.
NATO Secretary-General Jaap de Hoop Scheffer has called the treaty a cornerstone of European security.
"Grave Concern"
Speaking April 26 at a NATO foreign ministers meeting in the Norwegian capital of Oslo, de Hoop Scheffer said he was dismayed by Putin's announcement.
Russian Foreign Minister Sergei Lavrov, he said, "confirmed President Putin's statement made this morning that Russia is suspending -- he used the word 'moratorium' -- its adherence to the adapted CFE Treaty."
De Hoop Scheffer added: "I can tell you that that message was met by concern, grave concern, disappointment and regret."
The threat from Russia came as NATO ministers were discussing a plan by the United States to base parts of a new missile-defense system in Poland and the Czech Republic.
The U.S. says the system is needed to protect the West against a possible missile attack by Iran.
Double Standard?
Russia has been unremitting in its opposition to the proposal. It accuses Washington of seeking to build up a defense shield that could eventually be used to repel Russia's own nuclear arsenal.
Lavrov, speaking in Oslo, defended Russia's sense of alarm.
"We can't be unconcerned by the fact that the NATO military infrastructure is drawing closer to our borders," he said.
Moscow is also irritated by the refusal by the United States and other NATO members to ratify the amended 1999 CFE treaty.
Those countries say they will not ratify the document until Russia honors commitments to withdraw military bases from Georgia and Moldova.
It is so far unclear what Putin's proposed "moratorium" on CFE obligations means in real terms.
Russia's Defense Ministry said today it expects to hold talks with NATO on the issue in May.
Putin's CFE warning is just the latest in a series of hostile gestures from Russia toward the West.
Russia in recent months has stepped up its anti-American rhetoric, accusing the United States of seeking to undermine upcoming parliamentary and presidential elections in Russia.
It has also repeatedly warned against NATO expansion, making no secret of its displeasure with the military alliance's continued dialogue with Georgia and Ukraine.
Frustration, Anger
Rose Gottemoeller is the director of the Moscow Carnegie Center and an expert on nonproliferation. She tells RFE/RL that Putin's state-of-the-nation ultimatum reflects Russia's mounting anger at the West's failure to adequately adress its concerns.
"He was prompted by frustration, frustration over -- I perceive -- lack of attention to Russian concerns," Gottemoeller says. "The Russians have stated repeatedly over the last several months, and Putin himself was very articulate on this subject during his speech in Munich back on February 10th, that they've been very frustrated with U.S. plans to deploy missile defense components on Poland and the Czech Republic.
They have been pushing back very strongly against this, and it seems to have caused a great deal of anger and frustration in Putin himself."
Gottemoeller says it is dangerous for Russia, the United States, or any NATO partner to tamper with existing security agreements like the CFE.
But while she says Putin's announcement was the "wrong move," she says she doesn't think it will have an immediate impact on the deployment of conventional forces in Europe.
Nor, she adds, should it be interpreted as a return to Cold War-style tactics.
"That is a strong overstatement. I really agree very much with [U.S. Defense Secretary] Bob Gates in his original response to Putin at the time of the Munich speech, when he said one Cold War was quite enough," Gottemoeller says.
"I think the facts on the ground show a much different situation than during the Cold War. Quietly, cooperation continues on the level of the NATO-Russia Council, for example."
Conventional Forces In Europe
Conventional Forces In Europe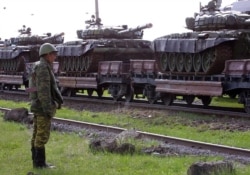 A Russian soldier watching Russian armaments leave Georgia in 2006 (epa)


AGREEMENTS ON CONVENTIONAL FORCES IN EUROPE. The CFE treaty is an arms-control agreement originally negotiated between NATO and the Warsaw Pact as a guarantor of European security in Europe in the waning days of the Cold War.

The original CFE Treaty took 10 years to negotiate, was signed by 30 states ** in November 1990, and came in to force in 1992. Its aim: to reduce stockpiles of conventional armaments between the Atlantic Ocean and the Ural mountains.
The blocs limited themselves to:
20,000 tanks
20,000 artillery pieces
30,000 armored combat vehicles
6,800 combat aircraft
2,000 attack helicopters

The CFE-1A, a 1992 addendum, has resulted in the withdrawal of more than 700,000 troops from Europe since 2001 and the destruction of 50,000 pieces of military equipment by 1995.
The CFE-II, negotiated in Istanbul in 1999, reflected the new, post-Soviet landscape by setting arms limits for individual countries, rather than zones. The agreement aided NATO's expansion efforts by allowing signatory states to allow foreign forces on their soil.
NATO states have not ratified the CFE-II due to concerns over Russia's failure to comply with commitments it made during the negotiations. Under the Istanbul Accords, Russia pledged to set a timetable for closing its remaining military bases in Georgia and to completely withdraw its forces from Moldova.
The CFE-II will come into force once ratified by all 30 CFE signatories. Thus far only Belarus, Kazakhstan, Russia, and Ukraine have ratified the CFE-II.
In ratifying the agreement in June 2004, Russia called on the signatories not to delay in ratifying the document. Russia expressed concern that Lithuania, Estonia, and Latvia, as nonmembers of the treaty, could possibly harbor NATO troops near its western border.
(** Armenia, Azerbaijan, Belarus, Belgium, Bulgaria, Canada, Czech Republic, Denmark, France, Georgia, Germany, Greece, Hungary, Iceland, Italy, Kazakhstan, Luxembourg, Moldova, the Netherlands, Norway, Poland, Portugal, Romania, Russia, Slovak Republic, Spain, Turkey, Ukraine, the United Kingdom, and the United States. )