At an alliance meeting in Brussels on April 19, NATO spokesman James Appathurai said member countries agreed that a planned U.S. antimissile shield in Europe should not leave some countries unguarded. They also said it should eventually be integrated with a similar NATO-designed system intended to protect those countries not covered by the U.S. system.
Appathurai also said delegates agreed that the proposed antimissile shield does not pose any threat to Russia.
NATO Secretary-General Jaap de Hoop Scheffer said at a news conference that "10 interceptor [missiles] will not, cannot and will not, effect the strategic
balance, and 10 interceptors can also not pose a threat to Russia."
However, a Russian delegation that met with NATO officials reiterated Russia's opposition to the plan.
Envoy Konstantin Totsky said Russia objects to the decision being made unilaterally, and said Russia is prepared for "constructive dialogue."
"We cannot easily accept that now, in Europe, for the first time since the end
of the Cold War, there is a deployment of a first strategic element," Totsky said. "And we are
against the fact that such decisions are made unilaterally."
(compiled from agency reports)
Russia And The EU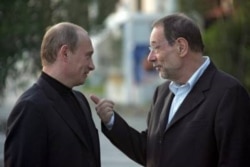 Russian President Vladimir Putin (left) with EU foreign policy representative Javier Solana in Sochi in May 2006 (epa)


A POLICY OF APPEASEMENT? Ralf Fuecks, head of the Heinrich Boell Foundation and a Green Party activist, spoke at RFE/RL's Prague broadcast center about the EU's complex relations with a resurgent Russia. RFE/RL President Jeff Gedmin moderated the discussion.
LISTEN
Listen to the entire briefing (about 60 minutes):

Real Audio
Windows Media
RELATED ARTICLES
Moscow Hosts PACE Standing Committee
Brussels Mulls Over Its Energy Sources
Council Of Europe 'Convinced' Of Chechnya Torture
ARCHIVE
RFE/RL's coverage of
Russia
.