Ukraine Not Interested In U.S. Missile Shield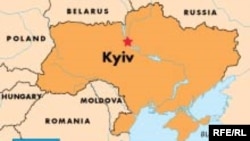 (RFE/RL) April 12, 2007 -- Viktor Yushchenko, Ukraine's pro-Western president, said today that his country is not considering hosting parts of a planned U.S. missile shield.
The United States plans to deploy elements of a missile-defense system in Poland and the Czech Republic. Moscow has criticized the plan, saying it threatens both Russia and Europe.
Yushchenko's statement follows remarks by U.S. Deputy Assistant Secretary of Defense Brian Green that Washington may consider Ukraine, among other countries, as an additional base for the missile shield.
(AFP, dpa, Interfax, ITAR-TASS)
FURTHER READING
Rogue Threat

A U.S. official discusses the security threats that Washington feels justifies a missile-defense program.

more

Russia Reacts

Moscow has been uncompromisingly hostile to the U.S. missile-defense proposal.

more