U.S. General Says Missile Shield No Return To Cold War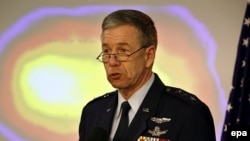 General Henry Obering (file photo) (epa) April 5, 2007 -- A top U.S. general says the United States is not trying to relaunch the Cold War with its plan to build a missile-defense shield in Europe.
The comments were made in Washington today by General Henry Obering, the head of the U.S. Missile Defense Agency.
Obering said Washington is not interested in an arms race with Russia and is talking to Moscow on the proposed missile-defense shield.
(AFP)