NATO Chief Seeks Oversight Of Missile Shield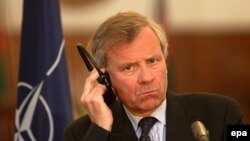 Jaap de Hoop Scheffer (file photo) (epa) March 26, 2007 -- NATO Secretary-General Jaap de Hoop Scheffer says a planned U.S. missile-defense system in Europe should be brought under the authority of the alliance.
Speaking at a press conference with EU foreign policy chief Javier Solana, de Hoop Scheffer said any Europe-based missile-defense system should be able to defend all NATO nations.
The United States is negotiating with Poland and the Czech Republic to host parts of the system, which it says is intended to protect against missile attacks from "rogue states" such as Iran.
(AFP)