The 1999 revised version of the treaty imposes strict limitations on the quantities of combat helicopters, tanks, armored personnel carriers, and artillery that signatories may deploy on their territory, and specifically in the sensitive so-called "flank" zones, which in the case of Russia are the North Caucasus and Pskov and Kaliningrad oblasts.
A buildup of tanks and artillery in the North Caucasus (where Russia is already suspected of having exceeded its allowed CFE limits by virtue of the deployment of armor and artillery in Chechnya and neighboring republics since 1999) could, however, pose a threat to Georgia.
Timed For Impact?
It may be significant that Putin's announcement was made at a time when both Georgian President Mikheil Saakashvili and Prime Minister Zurab Noghaideli are abroad, and shortly after Saakashvili unveiled plans for "resolving" the conflicts with Abkhazia and South Ossetia by offering terms that both sides are almost certain to reject.
Such a rejection could in turn be adduced as fueling the Georgian argument that as diplomatic means have failed, the only way to bring those regions back under the control of the central Georgian government is by force. Putin's April 26 statement could herald a Russian military buildup in the North Caucasus intended to deter Tbilisi from any such military incursion.
The United States and other NATO members have declined to ratify the amended CFE Treaty until Russia complies, first, with its commitments (as set out in Paragraph 19 of the Istanbul Summit Declaration adopted at the OSCE summit in November 1999) to "complete withdrawal of Russian forces from the territory of Moldova by the end of 2002," and second, with the bilateral agreement appended as an annex to the Final Act of the November Istanbul Conference, and which sets a timetable for the closure (now close to completion) of the four Russian military bases in Georgia.
The signatories to the Final Act pledge to "move forward expeditiously to facilitate completion of national ratification procedures, so that the Agreement on Adaptation can enter into force as soon as possible," but they do not explicitly peg ratification to Russian compliance with its commitments to either Georgia or Moldova.
Possible Precedent
New NATO members that were not signatories to the original 1990 CFE Treaty (the Baltic states and Slovenia) will eventually be required to accede to the revised treaty, but may not do so until all 30 original signatories have ratified it. To date, only four of those 30, including the Russian Federation, Belarus, and Kazakhstan, have done so.
No other signatories have yet hinted that they might follow Russia's example and impose a "moratorium" on their compliance with their respective CFE commitments. But Armenia and Azerbaijan have engaged in mutual accusations that the other has violated the "ceiling" on certain categories of weaponry imposed under the 1999 amendments, and might for that reason welcome the precedent Putin has set, even if they do not immediately follow suit.

A Precarious Balance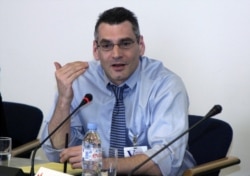 Richard Giragosian at RFE/RL on May 25 (RFE/RL)
SECURITY SLIPPING AWAY?
: On May 25, RFE/RL's Prague broadcasting center hosted a talk by
RICHARD GIRAGOSIAN
titled, "The Military Balance In The South Caucasus And Nagorno-Karabakh." Giragosian, a Washington-based analyst of international relations in the former Soviet Union, concentrated on the military balance between Armenia and Azerbaijan as the two countries continue to increase defense spending. Girogosian argued that corruption is the main threat to the national security of both countries. He also commented on other security issues in the South Caucasus, Iran, elsewhere.
LISTEN
Listen to the entire briefing (about 60 minutes):
Real Audio
Windows Media
Selected Articles By Richard Giragosian:
Nagorno-Karabakh: Peace May Depend On Military Situation
Georgia: Gas Cutoff Highlights National Security Flaws
Azerbaijan: Has Government Taken A Troubling Example From Andijon?
ARCHIVE
For an archive of RFE/RL's coverage of Nagorno-Karabakh, click here.

SUBSCRIBE
For weekly news and in-depth analysis on Armenia, Azerbaijan, Georgia, and Russia's North Caucasus by e-mail, subscribe to "RFE/RL Caucasus Report."