Iraq: Iran's Attendance Key To Security Conference
Will Mottaki (left) and Rice meet in Sharm El-Sheikh? (file photo) (epa) April 30, 2007 (RFE/RL) -- Iran's agreement to attend the Sharm el-Sheikh conference on Iraq's security on May 3-4 puts an end to days of speculation over whether the summit will involve all of the major players in the increasingly regional crisis.
At the same time, Tehran's decision to send its foreign minister opens the possibility for the highest-level direct talks between Iran and the United States in almost 30 years.

The United States has not ruled out a meeting with Iranian politicians at the conference. Secretary of State Condoleezza Rice told a U.S. ABC television's "This Week" on April 29 that a direct encounter between herself and Iranian Foreign Minister Manuchehr Mottaki is possible.

However, Rice said any bilateral contact would be only "about Iraq and about what Iraq's neighbors and interested parties can do to help stabilize the situation in Iraq."
The meeting in the Sharm el-Sheikh resort will include foreign ministers from most countries in the region, plus top officials from the United Nations and European Union.
The United States does not have diplomatic ties with Tehran, but mid-level envoys did meet at a conference on Iraq in Baghdad in March.

The two sides -- which broke off relations after U.S. diplomats were taken hostage following the 1979 Islamic Revolution -- have had no meaningful dialogue at the foreign-minister level for three decades. Rice's predecessor, Colin Powell, sat next to Iran's then-foreign minister at a dinner in 2004, but both sides say they exchanged only polite greetings.

This week's summit in Sharm el-Sheikh comes as Washington and Iran are locked in differences not only over Iraq but also over Iran's nuclear program.

Iran's Influence Important
Today, the secretary of Iran's Supreme National Security Council, Ali Larijani, held talks with Iraqi Foreign Minister Hoshyar Zebari in Baghdad and told reporters afterward the two men had discussed the conference.
"We also spoke about Sharm el-Sheikh with the minister," Larijani said. "We are united in our view that we should cooperate there so that the Iraqi government can enjoy the cooperation of its neighbors."
The Baghdad government sees Iran's participation in the Sharm el-Sheikh meeting as vital for helping to stabilize Iraq.

"As Iraqis, we want [Iranian representatives] to be with us in Sharm el-Sheikh," Iraqi Foreign Minister Hoshyar Zebari said on April 26.

You [the Iranians] are an important player and key regional players," he continued. "Your absence or your under-representation there is not helpful to you or to us. So, we urge them, in fact, very strongly to participate constructively in this meeting."
Washington Explains The Agenda
In Washington today, David Satterfield, a senior adviser to Rice on Iraq, said the conference is an effort to build a greater dialogue between Iraq, its neighbors, and the international community.
At a State Department briefing, Satterfield said on the first day of the conference, an international compact will be formally launched that will provide a detailed blueprint for "fundamental economic, commercial, trade, and structural reforms," which the Iraqi government has agreed to.
"It is a document which truly does commit Iraq to an open way of doing business," Satterfield said. "It is a document that we believe well merits the support of Iraq's neighbors, the Middle East as a whole, and the international community."
On the second day of the conference, Satterfield said, a so-called Neighbors Plus meeting will focus on regional relations, with the aim of improving the dialogue between Iraq and its neighbors and the international community.
"Too often neighbors have concerns about what is happening in Iraq, the international community has concerns about what is happening in Iraq, Iraq has concerns about what the neighbors are doing," Satterfield said. "There's not an adequate dialogue. The conference is designed as part of a process, and I want to underscore that. It is not a one-off event, but as part of a process, which should lead, we hope, Iraq hopes, to a continuing, better level of dialogue at the working, and political level."
'Much Could Go Wrong'
But Iran's participation does not automatically mean the conference will be a success.

Joost Hiltermann, an Amman-based political analyst with the International Crisis Group, says it is simply too early to predict what will happen.

"So much could go wrong," Hiltermann says. "I think it is very important that the meeting takes place. I think it is the only way forward in terms of stabilizing Iraq but its really impossible to say now that things will turn out OK."

However, he says Iran's participation gives more hope and it is difficult to overestimate Tehran's decision to send a delegation to Egypt.

"Iran has extensive influence in Iraq and has used that influence in various ways," he notes. "In part because of the Shi'ite majority but partially because it is a border country that has very, very long history [of relations] with Iraq and has the potential to make much trouble for the United States as it already has done to some extent."

Iran has several times been accused by the Washington of arming and training Shi'ite militants. Members of Shi'ite militias are increasingly engaged in a sectarian-based conflict with militant Sunni groups

The meeting in the Sharm el-Sheikh resort will include foreign ministers from most countries in the region, plus top officials from the United Nations and European Union. It will be chaired by Iraqi Prime Minister Nuri al-Maliki and UN Secretary-General Ban Ki-moon.
On The Verge Of Civil War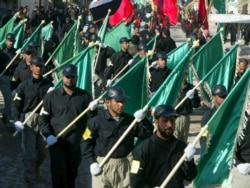 The Imam Al-Mahdi Army on parade (epa)
HAS THE CONFLICT IN IRAQ BECOME A CIVIL WAR? Many observers have concluded that the tit-for-tat sectarian violence that emerged after the February 2006 bombing of a mosque in Samarra has become a full-blown civil war.... (more)


RELATED ARTICLES
U.S. Media Starts Using 'Civil War' Label
Iraqi Prime Minister Under Fire From All Sides
U.S. Expert Discusses Prospects For Stabilization
President Says Iraq Needs Iran's Help
Saudi Arabia To Seal Off Border With Security Fence

THE COMPLETE PICTURE:
Click on the image to view RFE/RL's complete coverage of events in Iraq and that country's ongoing transition.