"Journalists like Anna are on the frontline of human freedom," U.S. Undersecretary of State for Public Diplomacy and Public Affairs Karen Hughes told a conference in Washington on May 1. "Yet while her story is perhaps the best known and most widely reported, she is unfortunately not alone. In every region of the world, journalists are under siege."
Hughes was the keynote speaker at the conference co-sponsored by the Broadcasting Board of Governors and Freedom House.
In front of a packed hearing room at the U.S. Capitol, Hughes said that never before in history have journalists been more important to the development of democracy and at no time have they been more under threat.
"Media groups -- including the World Association of Newspapers, the Committee to Protect Journalists, and Reporters Without Borders -- have been speaking out and protesting to governments with admirable resolve," U.S. Undersecretary of State Karen Hughes said.
A Threat To Civil Society
"Journalists expose corruption and crime," she said. "They shine a spotlight on human rights abuses around the world, and perhaps for those very reasons, we are living in a time of great danger for journalists around the world. They're at greater risk than ever of being threatened, jailed, or killed."
In Latin America and Africa, Southeast Asia, Eastern Europe, and Eurasia, Hughes said more than 130 journalists were imprisoned last year for doing their job. China currently has the most journalists in prison, some for simply posting material on the Internet.
Belarus is fast becoming the country with the worst censorship, Hughes said, and she also criticized Kazakhstan for passing a media law that asserts tighter government control.
"These worldwide threats to free press should be of great concern to all of us and to the family of nations," she said. "They threaten not just individual journalists, but civil society itself. Silencing journalists, whether they write from Internet cafes or in literary journals or newspapers or report on radio and television has a chilling effect."
Hughes said killing reporters who investigate the drug trade spreads crime, imprisoning reporters who write about health threats like AIDS and bird flu keeps epidemics secret and endangers public health, and assassinating journalists who investigate corruption enables it to grow and impact businesses and people.
The most effective answer to the repression of journalists and the media, Hughes said, is to shine a spotlight on it.
"Media groups -- including the World Association of Newspapers, the Committee to Protect Journalists, and Reporters Without Borders -- have been speaking out and protesting to governments with admirable resolve," Hughes said. "The linkage between a free press and democracy and development has been gaining more attention in international bodies such as UNESCO, the WTO, and the World Bank, and an even stronger focus is warranted."
Continued Press-Freedom Erosion In Russia
The media situation in Russia was described in greater detail at the conference by Peter Baker, a former Moscow bureau chief for the "Washington Post" newspaper. Baker worked in Russia from 2000-05, and with his wife, a fellow journalist, co-authored the book "Kremlin Rising: Vladimir Putin's Russia And The End Of Revolution."
Baker said the erosion of media freedom in Russia over the past seven years has been "profound," but the West has been preoccupied with the war in Iraq and therefore has taken little notice.
The past few years, he said, have been marked by the forced closure of almost all independent news outlets, the murder of several journalists, and the purchase of newspapers, television, and radio stations by companies closely tied to the Kremlin.
Baker's first big story as head of the Moscow bureau, he said, was the January 2001 takeover of the independent television station NTV. It turned out to be a sign of things to come.
"Ever since then, what we've seen has been a succession of NTVs," Baker said. "We've seen attempts to start new, independent television stations shut down. We've seen the television stations that existed -- all three of the national networks -- increasingly under the control of state officials or people who are afraid of state officials."
Baker said the only television network that showed news of the bloody 2004 siege of a school in Beslan, Ingushetia, was CNN. Russian television showed soap operas and movies.
The media climate in Russia today is one in which journalists are finding it increasingly hard to practice their craft and get independent, opposition voices out, he said.
Baker added that, although efforts by the United States and other countries to encourage a free press in Russia are helpful, the situation isn't likely to improve until Russians demand it themselves.
"The real problem is that the Russians themselves are very conflicted about this," Baker said. "Until they themselves demand a free-speech society, a media that serves their interests, there's only so much anybody else can do. When NTV was taken over in 2001, there was a poll taken by a Russia firm. It said 57 percent of Russians support censorship. And these are people who had lived through it, come out of that era, and in theory, wanted to go back."
The Iranian Blogosphere
In Iran, the media climate became extremely restrictive following a crackdown on the press in April 2000, according to Afshin Molavi, a journalist who has covered Iran for the "Washington Post."
Now with the Center for a New America policy studies center, Molavi recalled what a prominent Iranian journalist once told him:
"I always remember the comment that Mashaallah Shamsolvaezin, a prominent Iranian journalist, told me," Molavi told the conference. "He said, 'We don't have a problem with freedom of expression in Iran. We have a problem with freedom after expression in Iran.'"
Molavi said Internet blogs are changing the media landscape in Iran because they permit people to criticize -- and read criticism -- of society and government, anonymously.
For example, on May 1, he said, the No. 1 issue in the Iranian blogosphere was a crackdown on women who violate the Islamic dress code. There was also commentary about government action against teachers and news of a bus workers' strike.
He said that this kind of information is never published in Iranian media and noted that international media are difficult to access in Iran.
"When I was covering the July 2003 student protests, on that day of the morning that the protests were to take place, there were satellite dishes in the middle of squares that were cracked and broken into several pieces," Molavi said. "And it was not a subtle message. The message was do not listen to what the satellite television stations have to say."
Representative Tom Lantos (Democrat, California), a U.S. immigrant who was born in Hungary and joined the anti-Nazi underground when the German Army occupied his country in 1944, quoted Thomas Jefferson, who served as U.S. president from 1801-09, to illustrate the long history of press freedom in the United States.
"Media freedom has been recognized as precious in this country ever since Thomas Jefferson observed, 'Were it left to me decide whether we should have a government without newspapers or newspapers without a government, I should not hesitate a moment to prefer newspapers without a government,'" Lantos told the conference.
'Attacks On The Press -- 2006'
'Attacks On The Press -- 2006'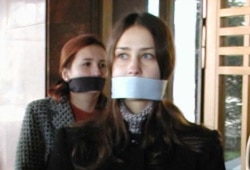 Ukrainian journalists demonstrating against censorship in December 2006 (RFE/RL)


'DOMINO EFFECT.' Two experts with the Committee to Protect Journalists told an RFE/RL-Radio Free Asia briefing on February 6 that their organization is concerned Russia's increasingly restrictive media environment is being copied by other countries in the CIS.
LISTEN
Listen to the entire briefing (about 80 minutes):

Real Audio
Windows Media
RELATED ARTICLES
New Program Finds Way Around Internet Censorship
CPJ Discusses Dangers, Obstacles Journalists Face
East: RSF Calls Iraq, Iran 'Graveyard Of Freedom'
Media Situation Worsening In Central Asia, Russia, Azerbaijan
SUBSCRIBE
For regular news and analysis on media issues throughout RFE/RL's broadcast area by e-mail,
subscribe to "RFE/RL Media Matters."