In its 2007 report, released today, the panel added Iraq to its "watch list," saying the Shi'ite-led government was contributing to violence and abuses through the actions of its security forces and by tolerating armed Shi'ite militias.
The panel said that Turkey still has "significant problems" in ensuring religious freedom for all citizens. It expressed concern about violence against minorities -- especially the Greek Orthodox community, Roman Catholics, and Protestants -- and about growing anti-Semitism in some Turkish media.
On Russia, the panel cited a broad range of concerns about human rights, democracy, and religious intolerance.
It also expressed concern over religious freedom in Afghanistan, Egypt, Bangladesh, Cuba, Indonesia, and Nigeria.
The panel, set up by the U.S. Congress in 1998, monitors religious freedom worldwide. Its reports go to U.S. lawmakers and the government.
(compiled from agency reports)
Rising Russian Nationalism
Rising Russian Nationalism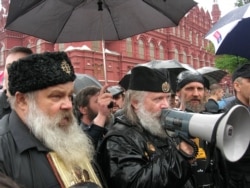 Orthodox believers and nationalists heckling a gay-rights rally in Moscow in May 2006 (RFE/RL)
A THREAT TO CIVIL, RELIGIOUS LIBERTIES: Several leading experts told a briefing hosted by RFE/RL and the U.S. Commission on International Religious Freedom that several mounting trends in Russia are posing a growing threat to human rights, especially for members of the country's ethnic and religious minorities.
LISTEN
Listen to the entire briefing (about 90 minutes):

Real Audio
Windows Media
RELATED ARTICLES
Why Putin Is Going To The Vatican
Bishop Assails Russian Orthodox Church

A thematic webpage devoted to issues of religious tolerance in RFE/RL's broadcast region and around the globe.