Every year -- ahead of the hot summer months -- the authorities launch a crackdown on what they describe as "bad veiling." The term is used to describe women who appear in public with colorful scarves and tight coats, or who show their hair or use makeup.
Police accost and sometimes detain such "badly veiled" women on major squares or in shopping malls, warning or fining them -- or taking them to police stations, where they must pledge in writing not to appear immodestly dressed in public.
Yet this year's crackdown is described by observers as one of the harshest in recent memory.
Iranian authorities have vowed that this fresh crackdown on improper clothing is no temporary measure, and announced that "plainclothes police will go into action" from next week.
Police have issued dress-code warnings to more than 10,000 women in the past 10 days, and many others have been briefly detained by authorities.
Since it began in late April, hundreds of women -- and some men -- have been detained at least briefly over their allegedly "un-Islamic" appearance. Some have signed statements pledging not to violate the dress code, while others face court cases. Barbers have been warned not to give men Western hairstyles, and young men playing loud music in their cars have been also warned.
Shops selling some types of clothes have also received warnings, and several have reportedly been shut down.
The crackdown has angered some Iranians, who say they are fed up with state interference in their private lives.
There is fear, despite assurances that authorities will not use force against those who are deemed to be inappropriately dressed.
One video posted on an Iranian website shows a woman screaming and protesting as police officers try to force her into their car. "Let me go!" she shouts in panic. "I don't want to go! What do you want to do with me? I don't want to go!"
Public Reluctance
The hejab, or head covering, and the Islamic dress code became compulsory in Iran following the 1979 revolution. Since then, authorities have used various methods to enforce dress laws, including extensive information campaigns.
But they have met with resistance -- particularly from young people. And some 25 years after the establishment of an Islamic republic, authorities still must force citizens to respect the dress code.
Saeed Paivandi, a Paris-based sociologist and expert on Iran, tells RFE/RL that he thinks the political and religious establishment has failed to get young people to follow and respect the version of Islamic culture that officials promote. He says that as a result, there is an ongoing clash between official state culture and the culture developed among young people.
"All of the young people who have grown up in Iran -- those who are under 35 year old -- they've been educated under an Iranian educational system that dictates and [promotes] Islamic cultures and values through pressure," Paivandi says. "All the main propaganda tools are also in the hands of the government, and yet each year we're facing the same issue."
There has been an easing of the strict dress code in recent years, and some women have pushed the limits with short or skimpy clothing or by showing much of their hair. Some boys have opted for unconventional hairstyles or Western clothes.
Could Backfire
Authorities say the new campaign strengthens society's morality and security. They say a large portion of the population supports it.
Many conservatives have applauded the fresh crackdown and said the problem of inadequate dress should be confronted head on.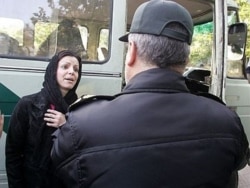 A woman being detained in Tehran last month (AFP)Iran's largest reformist student group is among those who have warned that the measures could backfire. Some legislators have also complained about the move and called for cultural work.
Even the head of Iran's judiciary, Aytollah Hashemi Shahrudi, has warned against the tough measures and said that "hauling women and young people to the police station will [serve no purpose] except to cause damage to society."
Some observers argue that the fresh move contradicts pledges that Iran's president made ahead of his 2005 election. President Mahmud Ahmadinejad promised freedom and said -- among other things -- that hairstyles and clothing are not the root of society's problems.
Getting Attention
Others say the crackdown is an attempt by the government to deflect public attention from important issues, such as economic hardships or Iran's growing international isolation over the nuclear issue.
Some contend that the new crackdown is aimed at pleasing senior clerics in Qom, many of whom have expressed their support. One senior cleric, Ayatollah Safi Golpayegani, recently compared "bad veiling" to a contagious disease and said it should be confronted in order to protect all of society.
Sociologist Paivandi predicted the new morality drive is doomed to failure.
"If such measures were truly going to succeed, then in the past 25 years they should have been able to resolve the issue through -- as they say -- 'soft measures' and cultural work or through the use of force," Paivandi says. "But none of those methods have been effective, and they have increased the distance between the two cultures and opinions. Since these [new] measures do not address the main difference, they will have no result."
Authorities appear to be turning a deaf ear to such predictions, however. They have said the current crackdown will continue and that "ethical security" will be enforced.
Women In Iran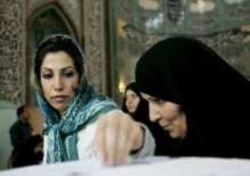 Women in Tehran (epa file photo)

CALLING FOR MORE RIGHTS: Although women played key roles in Iran's 1979 Islamic Revolution, the place of women in post-revolutionary society has been a vexing question. Iranian women have struggled to bring attention to their calls for greater rights in their country's rigid theocratic system, calls that have often clashed with the values proclaimed by conservatives in society. (more)
RELATED ARTICLES
Tehran Police Renew Campaign To Combat 'Un-Islamic' Dress
Iranian Peace Prize Laureate Shirin Ebadi On Women's Rights
Activists Concerned About Self-Immolation Of Iranian-Kurdish Women
The Younger Generation's 'Tehran Blues'
ARCHIVE
RFE/RL's coverage of Iran. RFE/RL's coverage of issues concerning women throughout our broadcast area.

SUBSCRIBE
For a regular review of civil-society developments throughout RFE/RL's broadcast region, subscribe to "RFE/RL (Un)Civil Societies."