Besides U.S. Secretary of State Condoleezza Rice, the foreign ministers of all Iraq's neighbors will attend, including Iran and Syria, two countries that Washington has shunned diplomatically because of what it views as support for terrorism and other bad behavior in the Middle East.
While the conference is ostensibly about how to help Iraq, at least some of the participants, including the United States, are pursuing their own agendas as well.

Private Agendas
According to Murhaf Jouejati, a Syrian native and Middle East scholar at the National Defense University in Washington, an observer watching Rice, Syrian Foreign Minister Walid al-Muallim, and Iranian Foreign Minister Manuchehr Mottaki may be able to see what their countries want -- and whether they'll get it.
And what does Syria want? Jouejati says al-Muallim wants most to have a one-on-one meeting with Rice, if only to get Syria out of what Jouejati calls a "deep freeze" in diplomatic relations with the West. But Jouejati says there is a second, more immediate and more tangible reason that Syria is taking part in the meetings.
"The Syrians have over 1.2 million Iraqi refugees, which is very, very onerous on the Syrian economy," Jouejati says. "And so they have a stake in the stabilization of Iraq, so they think they can play a positive role, although they have already said there is no 'magic wand' -- in other words, they're not going to produce miracles. But it is better to talk to Syria about Iraq than not."
Iran's Mottaki also wants a one-on-one session with Rice -- something his country has been demanding for years, and Washington has been rejecting unless Iran suspends its nuclear program. Iran contends it is pursuing only nuclear power, but Western countries say they suspect it is trying to develop a nuclear weapon.
Iran Demonstrates Influence
Jouejati says he expects Iran will use the conference on Iraq to help project an image of itself as a key player in the region -- an image that Washington doesn't yet recognize.
"Iran is a major power in the Middle East and it wants to be recognized as such. Iran is in a pivotal position: It could help further destabilize Iraq, or it could stabilize it," Jouejati says. "And so, here again, it is not only a question of Iran and Iraq, and what Iran can do for Iraq, it is also a question of the Iranian-United States relationship."
And that relationship, Jouejati explains, is all about whether Iran or the United States will become the dominant influence in the Middle East, from Afghanistan's western border to the Mediterranean Sea.
Some observers say U.S. President George W. Bush's administration also has its own agenda at the conference. Certainly it wants to stabilize Iraq so that it can withdraw U.S. forces from what's become an unpopular war. They say Washington wants to show that it is still a key player in the Middle East, despite what critics call missteps there.
Sunni-Shi'a Divide
But Jouejati says the United States has another task at Sharm el-Sheikh: Diminishing, or at least deflecting, the influence of Iran, a Shi'ite Muslim state, in the region.
He notes that Sunni states in the Middle East are concerned about Tehran's links to Iraq's majority Shi'a, as well as its ties to Hizballah in Lebanon, and Hamas in the Palestinian Territories.
To accomplish this, Jouejati says, Rice may have to do some bargaining with Mottaki. "The United States perhaps is ready to concede a little to Iran, but not a whole lot, lest its allies go under," he says. "And for Iran, it is the mirror image. It wants to impose itself as the dominant regional player in the Middle East, and may concede some things if it were recognized as such."
But Jouejati emphasizes that it's too soon to say whether such bargaining might take place at the current conference or later.
Even if very little happens at Sharm el-Sheikh, Jouejati says the conference is an opportunity to restart peace efforts in Iraq and the rest of the region.
"There are a lot of participants at this conference, and usually when there are, not a whole lot can get done. But I am hoping that they will begin to warm up to each other, size each other up, in view of potentially later a more substantive dialogue," Jouejati says. "But a first step needs to be taken, and this is one very good at a very senior level."
SHARM EL-SHEIKH CONFERENCE -- FURTHER READING
Breakthrough Unlikely

Judging from past international meetings on Iraq, a lot of rhetoric and little action can be expected.

more

Suspicious Iran To Attend Summit

Tehran's official line is that it's attending for Iraq's sake and has no interest in talking to the United States.

more
Iraq's Refugee Crisis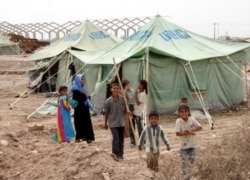 Children at an Iraqi camp for displaced people outside Al-Nasiriyah in May 2006
REFUGEES FLEE SECTARIAN VIOLENCE The UN High Commissioner for Refugees has estimated that over 2 million Iraqis have fled sectarian violence for Jordan, Syria and other neighboring states, while an equal number may be internally displaced within Iraq..... (more)
RELATED ARTICLES
Neighboring States Call For Help With Refugees
Refugees Under Pressure in Syria, Jordan, Lebanon
Displacements Upset Religious, Ethnic Communities
Official Says Refugees To Get New Passports Soon