The current resolution , adopted May 2 by the council's executive arm, the Committee of Ministers, says the country has not done enough to implement existing federal legislation on minority protection.
The document also describes as "inadequate" the amount of state funding for the preservation and development of minority cultures.
The Committee of Ministers calls for a vigorous and open investigation of continuing human rights abuses in the North Caucasus region.
Officially, more than 75 minority languages are taught as a discipline in more than 10,000 schools in Russia. But the resolution says it remains difficult for some minority groups to receive access to such education.
Obstacles & Burdens
Russia's new law restricting the activities of nongovernmental organizations has also put an increasing burden on the country's 2,000 public associations dealing with national minorities, as well as its 560 national cultural autonomies.
The resolution also notes a reduction in state financial support to minority language media. It says a new law aimed at protecting the status of Russian as the country's state language could present further obstacles to minority languages.
The situation facing people in or from the North Caucasus is singled out as "particularly disturbing," with violence and discrimination reported in a number of regions.
The Committee of Ministers calls for a vigorous and open investigation of continuing human rights abuses in the North Caucasus region.
The resolution also focuses on the sharp rise in racially motivated attacks in the past five years. Human rights activists say there have been more than 200 racist attacks registered in Russia this year alone, including 25 murders.
The media and officials in Russia still appear reluctant to acknowledge the racial motivation in such crimes, the resolution adds.
Some Progress
There have been some positive developments, the Committee of Ministers notes.
Since the adoption of a first such resolution in July 2003, high-level Russian officials have called publicly for steps to be taken to fight racism and intolerance.
The number of convictions in racially motivated crimes has increased, and a "lively" minority-language media scene is visible in much of the federation.
The Committee of Ministers has urged Russian authorities to step up efforts to strengthen the rights of minorities.
The Council of Europe has no enforcement mechanism. But the resolution, though nonbinding, puts public pressure on Russia to honor its commitments as a member of the council and a signatory to the Framework Convention for the Protection of National Minorities.
The Council of Europe has 46 member states. Russia joined in February 1996.
Moscow Takes On Extremism
Moscow Takes On Extremism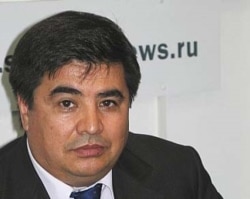 Kamlizhan Kalandarov in RFE/RL's Moscow studio (RFE/RL)
COMBATTING THE HATRED:
RFE/RL's Russian Service on August 21 spoke with
Kamilzhan Kalandarov
, a member of the Public Chamber and a leader of the NGO Our Russia. (Read
the complete interview
in Russian). Kalandarov spoke about efforts the authorities are making to combat the wave of hate crimes sweeping Russia.
Kalandarov: Xenophobia today threatens the national interests of Russia. But I agree that the authorities are making good progress in this matter. First, the order on withdrawing Russian forces from Chechnya was recently signed. That is a big plus because the source of extremism, the sources of Caucasus-phobia are partly in Chechnya. Islamophobia grew dramatically after the first Chechen war. Next, the Public Chamber was created. We have a subcommission on nationalities issues and a subcommission that drafts projects related to xenophobia. This work is ongoing, which is why I think the authorities are really interested in making sure this problem does not go any further.
We should also mention the courts. I think that in many cases judges themselves hold [xenophobic] views. Second, we have not created normal conditions for protecting witnesses. People are not physically protected from various types of influence. Judges are afraid and witnesses are afraid. Because they have to keep living in that city. This defenselessness leads to cases not being pursued and to not-guilty verdicts being issued.
RELATED ARTICLES
A Timeline Of Recent Racial Incidents
Russian Ombudsman Condemns Hate Crimes
Hate Crime Trial Highlights Mounting Racism
Minister Says Russia Can't Stop Xenophobia Alone
For African Students In Russia, Affordable Education Comes At A Price
ARCHIVE
To view an archive of all of RFE/RL's coverage of Russia, click here.

SUBSCRIBE
For a regular review of civil-society developments throughout RFE/RL's broadcast region, subscribe to "RFE/RL (Un)Civil Societies."


RFE/RL IN RUSSIAN: Visit RFE/RL's Russian-language website, featuring news, analysis, features, streaming audio, and more in Russian, courtesy of RFE/RL's Russian Service.