He and 11 other defendants who were handed prison terms of up to five years were all members of a nationalist group called "White Guard."

Anti-racism campaigners were closely following the final stage of the trial against the youths charged with beating Enrique Hurtado in Voronezh to death last year.

The slaying of Hurtado, an 18-year-old student from Peru, has become one of the most prominent hate-crime cases in Russia.

Market Bombing

The trial follows the arrest of two students charged with targeting "non-Russians" in a fatal bombing earlier this week at a multiethnic Moscow market. The bombers in that attack have also been linked to a nationalist youth group.

The blast killed 11 people from Tajikistan, Uzbekistan, China, Vietnam, Russia, and Belarus, and wounded more than 50.

Moscow chief prosecutor Yury Syomin said that two young men detained in connection with the blast have admitted to carrying out the bombing because, they said, "there were many people of Asian origin" working at the market.

Racist literature has reportedly been found at their dormitory.

Aleksandr Verkhovsky is the director of the Sova Center, a group that monitors extremist activity in Russia.
Two young men detained in connection with the blast have admitted to carrying out the bombing because 'there were many people of Asian origin' working at the market.
He has no doubt that these young men have ties to nationalist youth groups.

"These people are not 15 years old, it's not their first year in this environment," Verkhovsky said. "They probably belonged to some of these groups in the past, it cannot be otherwise. But this doesn't mean they acted under instructions from some organization. They probably came up with the idea themselves."

Nationalist groups, Verkhovsky explains, are too careful to carry out large-scale attacks such as the August 21 market bombing.

Most of these organizations focus largely on training young men, many of them still minors, to attack dark-skinned people with weapons such as knives, chains, and metal prods.
Hooligans Being Hooligans
While law enforcement agencies have in the past described most of these attacks as acts of hooliganism -- a charge that carries relatively light sentences -- rights activists, by contrast, have been insisting on the danger represented by these groups.


Verkhovsky says white-supremacy groups have been mushrooming in Russia over the past few years.
"Mass xenophobia is on the rise in the country, and these groups are only the avant-garde of these mass feelings," Verkhovsky said. "When feelings grow, the avant-garde grows. This potential for mass xenophobia is constantly feeding this radical movement, which is growing and will continue to grow in the near future."
Yury Belyayev, a former police officer, heads a leading neo-Nazi youth group in St. Petersburg.
His group's website has welcomed recent attacks and killings of foreigners in St. Petersburg under a section titled "The City Cleanup Continues." Like most nationalist groups, his movement relies heavily on the Internet to coordinate its operations, maintain contact with members across the country, and draw new recruits.
"When almost every organization exists independently, Russia just doesn't have enough police to focus on every single organization." -- former police officer turned neo-Nazi group leader
He recently told RFE/RL that street attacks on foreigners are not isolated cases, but carefully planned actions.

"You can't say they are not organized, of course they are organized," Belyayev said. "I am an organizer. I can organize congresses, I can organize conferences, I can organize attacks. We are working in an increasingly professional way. This is obvious, there are fewer arrests. [Our] people get instructions, they study, they work."

Loose-Knit Groups
Verkhovsky says that Russia's myriad nationalist groups are not controlled by a single leader and are only loosely linked to each other.

Belyayev confirms this, saying it makes it more difficult for the police to crack down on the nationalist movement as a whole.

"Every organization is almost totally autonomous," Belyayev said. "They keep ties with the center, they follow the general line. Destroying a strictly organized structure is very simple. But when almost every organization exists independently, Russia just doesn't have enough police to focus on every single organization."

The wave of hate crimes in Russia has been drawing increasing international attention.

During a visit to Russia in June, Doudou Diene, the United Nations special rapporteur on racism and xenophobia, said he was shocked by the climate of fear among non-Russians living in the country.

He called on the Russian government to do more to punish the perpetrators of hate crimes.
Moscow Takes On Extremism
Moscow Takes On Extremism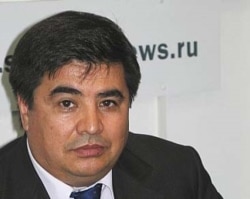 Kamlizhan Kalandarov in RFE/RL's Moscow studio (RFE/RL)
COMBATTING THE HATRED:
RFE/RL's Russian Service on August 21 spoke with
Kamilzhan Kalandarov
, a member of the Public Chamber and a leader of the NGO Our Russia. (Read
the complete interview
in Russian). Kalandarov spoke about efforts the authorities are making to combat the wave of hate crimes sweeping Russia.
Kalandarov: Xenophobia today threatens the national interests of Russia. But I agree that the authorities are making good progress in this matter. First, the order on withdrawing Russian forces from Chechnya was recently signed. That is a big plus because the source of extremism, the sources of Caucasus-phobia are partly in Chechnya. Islamophobia grew dramatically after the first Chechen war. Next, the Public Chamber was created. We have a subcommission on nationalities issues and a subcommission that drafts projects related to xenophobia. This work is ongoing, which is why I think the authorities are really interested in making sure this problem does not go any further.
We should also mention the courts. I think that in many cases judges themselves hold [xenophobic] views. Second, we have not created normal conditions for protecting witnesses. People are not physically protected from various types of influence. Judges are afraid and witnesses are afraid. Because they have to keep living in that city. This defenselessness leads to cases not being pursued and to not-guilty verdicts being issued.
RELATED ARTICLES
A Timeline Of Recent Racial Incidents
Russian Ombudsman Condemns Hate Crimes
Hate Crime Trial Highlights Mounting Racism
Minister Says Russia Can't Stop Xenophobia Alone
For African Students In Russia, Affordable Education Comes At A Price
ARCHIVE
To view an archive of all of RFE/RL's coverage of Russia, click here.

SUBSCRIBE
For a regular review of civil-society developments throughout RFE/RL's broadcast region, subscribe to "RFE/RL (Un)Civil Societies."


RFE/RL IN RUSSIAN: Visit RFE/RL's Russian-language website, featuring news, analysis, features, streaming audio, and more in Russian, courtesy of RFE/RL's Russian Service.