Ukrainian President Names New Constitutional Court Judge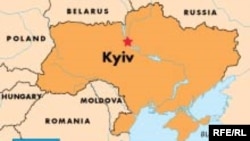 (RFE/RL) May 4, 2007 (RFE/RL) -- Ukrainian President Viktor Yushchenko has named a new judge to the Constitutional Court, the second such appointment in two days amid a political crisis.
Yushchenko named Stepan Havrysh and Vasyl Kostytskyy to replace two judges he sacked earlier this week, citing procedural and ethics violations.
Kostytskyy, who has a doctorate in law, was a deputy environment minister in 1991-93 and as a deputy finance minister in 2004-05. Havrysh previously served on the panel of the Constitutional Court for a short stint from December 2004 to January 2005, having been appointed by former President Leonid Kuchma.
However, Justice Minister Oleksandr Lavrynovych said the president had no right to appoint judges without consulting Prime Minister Viktor Yanukovych and the Justice Ministry.
Yanukovych and his allies have asked the court to rule on the legality of Yuschenko's April order dissolving parliament.