Ukrainian Minister Pledges Democratic Solution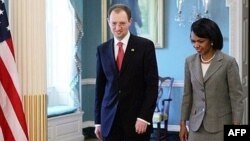 Yatsenyuk (left) with Rice in Washington on May 1 (AFP) May 2, 2007 -- Ukrainian Foreign Minister Arseniy Yatsenyuk has told U.S. Secretary of State Condoleezza Rice that his country would solve its current political crisis in a democratic way.
He assured U.S. officials that President Viktor Yushchenko's decision to dissolve parliament and call early elections is legal.
Yatsenyuk met with Rice on May 1 for talks focusing on energy security, ways to resolve so-called frozen conflicts, and Ukraine's bids to join NATO and the World Trade Organization.
(AP, Interfax)
FURTHER READING
Roots Of The Crisis

The current standoff in Ukraine is a direct result of President Yushchenko's indecision last June.

more

Where Was The West?

Some analysts are speculating that the West did too little to embrace Ukraine when the Orange Revolution was at its peak.

more