Gul Withdraws Presidential Bid After Failed Vote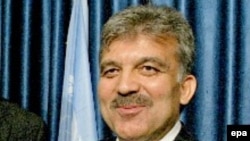 Abdullah Gul (file photo) (epa) May 6, 2007 -- Turkish Foreign Minister Abdullah Gul, the sole candidate in Turkey's presidential election, has withdrawn his candidacy after parliament failed again today to gain a quorum.
Parliament speaker Bulent Arinc said the ruling Islamic-rooted AK Party failed to secure the presence of two-thirds of the deputies, which is needed to make the voting process valid.
This is the second time the vote has failed. The opposition is boycotting the election, fearing that Turkey's secular state is at risk through encroaching Islamization.
Massive pro-secularist demonstrations have been held in Ankara and Istanbul in recent days.
(Reuters, AFP, AP, dpa)