Beginning on May 22, the government will be obliged to prescribe the amount of gasoline that each driver can consume at the subsidized rate, which will be raised to roughly 100 tumans (about $0.11) per liter from the current 80 tumans per liter. The state budget should also set the price for any gasoline purchased above the subsidized amount.
Motorists must use the millions of "smart cards" distributed in recent weeks to measure their consumption.
Those measures are part of a push to reduce the $5 billion that was spent on gasoline imports during 2006, as exports for hard currency and restricted refining capacity divert oil resources away from domestic consumers.
The daily "Etemad" commented on May 6 that the government's silence over the scheme -- just weeks ahead of its late-May implementation -- demonstrated a lack of concern.
There is an increasing awareness of waste, but also a fear of inflation and public dissatisfaction.
Most parliamentarians and other officials appear to accept the two-tier pricing. But comments by legislators in April suggested that the government was keen on maintaining the current subsidized rate of 80 tumans. Lawmakers warned that parliament would resist any move to keep that price, while many have observed that any effort to curb consumption and cut imports requires at least a 25-percent increase, to 100 tumans. They also made the point that the higher price was anchored in the current budget, valid for the year to March 20, 2008, and a change would force changes elsewhere.
Parliamentary Energy Committee Chairman Kamal Daneshyar commented recently that parliament is firm on the two-tier system, whether the basic quota costs 80 or 100 tumans a liter. The Mehr news agency on April 15 quoted Daneshyar as saying the basic quota would most likely allow private vehicles 90 liters per month and taxi cabs 750-900 liters per month.
Lawmakers and officials have speculated on prices above those quotas -- with some proposing numerous price tiers at decreasing subsidies and others saying drivers should be charged the market price for imported gasoline.
Technical obstacles
Parliamentarians have sounded uncertain about the gasoline initiative. On May 5, Daneshyar said the new system and the use of smart cards cannot be implemented by May 22 for technical reasons. But he urged raising gasoline prices to 100 tumans a liter anyway while the system is finalized. Daneshyar said "80 percent" of smart cards have been distributed, but that many of the machines designed to read them are faulty. But by the next day, he had apparently changed his mind; he said the new pricing system should go ahead, even with technical difficulties.
Abdolmajid Shoja, a member of the Energy Committee, noted on May 6 that 2 million drivers still had no smart cards. Shoja also said the system needs satellite connections to work, which is impossible in some parts of Iran.
Deputy Oil Minister Mohammad Reza Nematzadeh rejected reports of technical glitches on May 5, and said he knew of no delays.
Skepticism over what could be a complicated system has led some to suggest a simpler rise in the price of gasoline. One Tehran legislator, Mohammad Khosh-Chehreh, suggested a 50-90 percent increase to 120-150 tumans, or about $0.13-16, per liter. A member of the parliamentary Plan and Budget Committee, Hadi Haqshenas argued that it would have been better for parliament to raise gasoline prices by 25-75 percent to 100-140 tumans a liter. And a member of parliament's National Security and Foreign Policy Committee, Heshmatollah Falahatpisheh, cautioned that the government must ensure that the tiered system will not produce a new "fuel mafia," ISNA reported on April 25. He was referring to fuel smuggling, whereby traffickers take Iran's dirt-cheap fuel to neighboring Pakistan or Turkey to sell at much higher prices.
Others have wondered aloud whether the new pricing will really reduce consumption. A member of the parliamentary Energy Committee, Hussein Afarideh, said he doubts that Iranian motorists will be deterred by a 25-percent price rise on the basic quota. A Tehran-based economic observer, Mohammad Hussein Qadiri, called the 25-percent price hike an illusory increase, given Iran's double-digit inflation.
Some in government have suggested improving public transport and converting public vehicles to allow them to run on liquefied gas in order to reduce gasoline consumption.
Subsidizing waste?
The debate highlights the difficulty of liberalizing the key area of an economy that is highly dependent on oil and subsidies. On the one hand, there is an increasing awareness of waste -- of both fuel and the vast funds spent on importing fuel. On the other hand, there is a fear of inflation and public dissatisfaction.
Iranians are already seeing price rises in an economy where many goods are subsidized, and many prices officially fixed. Many wonder what impact a gasoline price rise might have on their daily lives. Some businesses might have already factored the price hike into retail prices, or could do so very soon. That would increase the inflationary pressure on weaker socioeconomic groups in a way that the government hopes to avoid.
Several observers have claimed that the public will not accept the new prices and lacks the "culture" needed to make a new pricing system work. Iran's postrevolutionary government has arguably encouraged a "culture" of subsidies and the widespread view that the poor are entitled to cheap petrol, cheap water, and cheap gas and electricity. Wasting "national" resources is a proletarian right, it seems. The government's silence on the gasoline-pricing issue may indeed indicate officialdom's reluctance to see any price increase.
Even the legislature, which appears more in favor of a price rise, took a backward step on May 6 when it reversed a recent increase in the price of gas oil, a heating fuel. Lawmakers had raised the price of gas oil from 16 to 45 tumans a liter as part of this year's budget, but then voted to restore the lower price.
The Iranian state thus appears willing to finance -- at least partly -- heavy fuel consumption by Iranians, both rich and poor.

The Iranian Economy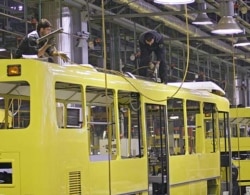 Buses being produced at a factory in Tehran (Fars)

IN NEED OF DIVERSIFICATION. Populist Iranian President Mahmud Ahmadinejad is having trouble fulfilling his promises to put the country's petrodollars on the plates of average citizens. Inflation and unemployment remain high and the economy is dominated by the energy sector.
RELATED ARTICLES
Foes Challenge President's Economic Rhetoric
Power Cuts In An Energy-Rich Land Spark Protests
Government Balks At Gasoline Rationing
Weak Economy Challenges Populist President
ARCHIVE
RFE/RL's
coverage of Iran
.
SUBSCRIBE
For weekly news and analysis on Iran by e-mail,
subscribe to "RFE/RL Iran Report."