But both Armenian Prime Minister Serzh Sarkisian and Foreign Ministry spokesman Vladimir Karapetian immediately denied that Yerevan's negotiating position has changed in any way.
Explaining his rationale for violating the unwritten agreement that details of the peace process should not be made public until all aspects are finalized, Aliyev claimed that the Armenian side has already violated that agreement by distorting the nature of the agreements reached to date, zerkalo.az reported on May 5.
Aliyev said a "general agreement" has been reached on the Armenian withdrawal, which will take place step-by-step over a period of several years.
But Aliyev's account of what has been agreed to differs considerably from the "basic principles" for resolving the conflict proposed to the conflict sides last year by the co-chairmen of the OSCE Minsk Group, which since the summer of 1992 has sought to mediate a settlement.
'Basic Principles'
Those "basic principles" were posted on the website of the U.S. Embassy in Yerevan in June 2006, and continue to serve as the nucleus for the ongoing peace talks.
Aliyev said that Armenia has agreed both to the "phased" approach to resolving the conflict and to a withdrawal from the seven districts of Azerbaijan bordering on the unrecognized republic of Nagorno-Karabakh that it has controlled since 1993, including the strategic Lacin corridor linking Nagorno-Karabakh with Armenia and the broader Kelbacar district located between the two entities.
Aliyev said a "general agreement" has been reached on the Armenian withdrawal, which will take place step-by-step over a period of several years.
At Armenia's insistence, Aliyev continued, Baku has dropped its opposition to the deployment of an international peacekeeping force, but the duration of that deployment will be limited.
Once all seven districts are liberated, Aliyev continued, the Azerbaijani displaced persons will return to their abandoned homes, after which the final status of Nagorno-Karabakh vis-a-vis the central Azerbaijani government will be determined in a manner that preserves the territorial integrity of Azerbaijan.
He said that future status would encompass broader autonomy than the region had prior to 1988 as an autonomous oblast within the former Azerbaijan Soviet Socialist Republic. Those Armenians who want a greater degree of self-determination are free to leave Karabakh and resettle in Armenia, the daily echo-az.com quoted Aliyev as saying.
Aliyev's claim that Armenia has agreed to the "phased" approach to resolving the conflict is at odds with the "basic principles" made public 10 months ago. Those principles point to a "phased-package" approach, meaning that the various elements of a settlement are all addressed and resolved in one comprehensive peace agreement, although not all implemented simultaneously.
But the "basic principles" do indeed provide for the gradual redeployment of Armenian troops from Azerbaijani territories around Nagorno-Karabakh, with unspecified "special modalities" for the Kelbacar and Lacin districts. International peacekeepers would then be deployed on the demilitarized liberated territories. Finally, the "basic principles" stipulated that at some unspecified future date, a referendum among the population of the region would be held on the future status of Nagorno-Karabakh.
Yerevan, however, has always insisted that the issue of Lacin and Kelbacar must be addressed separately from that of the other five occupied districts. Armenian Foreign Minister Vartan Oskanian told journalists on June 29, 2006, that "there will be a [Lacin] corridor linking Nagorno Karabakh to Armenia." He added that Armenia will insist that that corridor "has the same status" as Karabakh.
Possible Referendum
Oskanian also explained that due to security considerations, Kelbacar can be returned to Azerbaijani control only after the referendum on Nagorno-Karabakh's future status. In a statement on June 26, 2006, pegged to the publication of the "basic principles," the Armenian Foreign Ministry claimed that the presidents of Armenia and Azerbaijan have agreed on holding such a referendum.
The Karabakh leadership, however, has argued against any such plebiscite on the grounds that it would call into question the legality of referendum held on December 10, 1991, in which the Armenian population of Nagorno-Karabakh voted overwhelmingly for independence from the then-Azerbaijan SSR, while the Azerbaijani minority boycotted the vote. Aliyev on May 4 made no reference to any future referendum.
In Yerevan on May 4, Armenian Prime Minister Sarkisian told RFE/RL's Armenian Service that "I don't know what goals the president of Azerbaijan is pursuing, but it is known to everyone that we have principles and that those principles have not changed."
Armenian Foreign Ministry spokesman Karapetian for his part focused on Aliyev's implicit threat that after 10 years of fruitless peace talks, Azerbaijan would be justified in seeking to bring Nagorno-Karabakh back under its control by military force, and that thanks to the recent huge increases in its military spending, Azerbaijan's armed forces are capable of winning a new war. Karapetian construed that "militant rhetoric" as a reflection of weakness.
Elections In Armenia
There are several possible, interrelated reasons why Aliyev should have chosen to sow confusion over the status and key points of the Karabakh peace talks just one week before the May 12 Armenian parliamentary elections. Many observers, both in Yerevan and abroad, believe that a victory in that ballot for Prime Minister Sarkisian's Republican Party of Armenia would pave the way for Sarkisian's election next year to succeed incumbent Robert Kocharian as president of Armenia. Kocharian's second term expires in March 2008, and he is barred by the constitution from seeking a third term. (Aliyev's first presidential term expires in October 2008, but his reelection is considered a given.)
Kocharian and Sarkisian were both born and raised in Karabakh and participated in the 1992-93 war. Sarkisian could thus be expected to continue unchanged the tough policy Kocharian has espoused for the past eight years regarding the timing of an Armenian withdrawal from the occupied districts and the future status of Karabakh.
Aliyev may well have been hoping to compound the pressure on the Armenian leadership in the run-up to the ballot -- although it is by no means clear whether, in the unlikely event that the opposition launches mass protests at ballot rigging that evolve into a spontaneous revolution that topples the present Armenian leadership, the opposition would subsequently adopt a softer line on resolving the conflict.
Alternatively, Aliyev may simply have been hoping to weaken the Kocharian leadership, whether or not as a prelude to launching a new military offensive.
Moreover, Aliyev on May 4 described as a major diplomatic victory for Azerbaijan the recent double revision of the wording of the U.S. State Department's annual report on human rights. According to the initial, and final, version of that report, "Armenia continues to occupy the Azerbaijani territory of Nagorno-Karabakh and seven surrounding Azerbaijani territories." The Armenian leadership protested that formulation, which was duly changed, but the initial wording was restored in late April after Baku pulled out of high-level security talks in Washington in protest. Aliyev may have been seeking to capitalize on that diplomatic victory.
Speaking at Yerevan State University on April 27, President Kocharian referred to preparations under way for a meeting in St. Petersburg on June 10 between himself and President Aliyev to resume talks on resolving the Karabakh conflict, Noyan Tapan reported. Whether Aliyev's May 4 comments will torpedo those plans is not yet clear.
Nagorno-Karabakh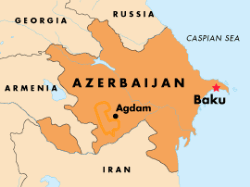 Click on the map to see an enlarged map of the Nagorno-Karabakh conflict area.
In February 1988, the local assembly in Stepanakert, the local capital of the Azerbaijani region of
NAGORNO-KARABAKH
, passed a resolution calling for unification of the predominantly ethnic-Armenian region with Armenia. There were reports of violence against local Azeris, followed by attacks against Armenians in the Azerbaijani city of Sumgait. In 1991-92, Azerbaijani forces occupied most of Nagorno-Karabakh, but the Armenians counterattacked and by 1993-94 had seized almost all of the region, as well as vast areas around it. About 600,000 Azeris were displaced and as many as 25,000 people were killed before a Russian-brokered cease-fire was imposed in May 1994.
For a complete archive of RFE/RL's coverage of the Nagorno-Karabakh conflict,click here.
Of particular interest:
2005 In Review: Conflicts In Caucasus Still Characterized By Gridlock
Nagorno-Karabakh President Expresses Optimism