Bosnian Serb's Genocide Conviction Overturned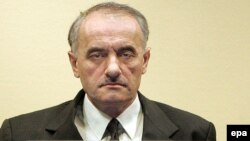 Blagojevic was in the courtroom to hear the verdict (epa) May 9, 2007 -- UN appeals judges have overturned the conviction for complicity in genocide of Bosnian Serb Colonel Vidoje Blagojevic and cut his sentence from 18 years to 15.
Blagojevic led a brigade that indirectly took part in the 1995 massacre of more than 8,000 Muslim men and boys in Srebrenica.
His troops helped separate Muslim men from women and load them into buses before the men were driven away and later murdered.
He was convicted in January 2005 of war crimes and complicity in genocide
However, the court said today that Blagojevic should have been acquitted on the genocide charge because the original trial chamber ruled that he did not know of the mass murders and only provided logistical support.
The court upheld Blagojevic's other convictions for aiding and abetting murder, persecution, and inhumane acts.
(AP, AFP)

SUBSCRIBE
For a regular review of politics, media, and RFE/RL broadcasts in the western Balkans,
subscribe to "RFE/RL Balkan Report."