Opposition Rally In Armenia Ahead Of Elections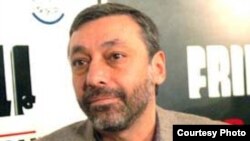 Former Foreign Minister Alexander Arzumanian (Courtesy Photo) May 10, 2007 -- Thousands of opposition supporters have rallied in Yerevan demanding the impeachment of President Robert Kocharian and warning of fraud in parliamentary elections on May 12.
Organizers said more than 15,000 took part in the May 9 rally, though police put the number at around 5,000.
Demonstrators also marched to the headquarters of Armenia's National Security Service to protest against the arrest this week of opposition leader and former Foreign Minister Alexander Arzumanian on money-laundering charges.
(AFP)