Third Judge Sacked From Ukraine Constitutional Court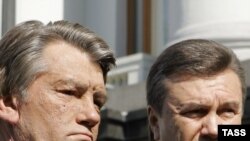 Yushchenko (left) and Yanukovych agreed on May 4 to hold an early election (ITAR-TASS) May 10, 2007 -- Ukrainian President Viktor Yushchenko has sacked another Constitutional Court judge, Volodymyr Ivashchenko.
Ivashchenko is the third Constitutional Court judge to be dismissed by the president on charges of procedural and ethics violations.
The parliamentary majority, led by Prime Minister Viktor Yanukovych, has denounced the dismissals as unconstitutional.
After a monthlong political standoff, Yanukovych and Yushchenko reached agreement in principle on May 4 to hold early parliamentary elections, but they have not decided on a date.
However, the Constitutional Court is still officially considering, at the request of Yanukovych and his allies, the legality of Yushchenko's April 2 order to dissolve parliament and call early elections.
(Interfax, ITAR-TASS)
RFE/RL Belarus, Ukraine, And Moldova Report

SUBSCRIBE For weekly news and analysis on Belarus, Ukraine, and Moldova by e-mail,
subscribe to "RFE/RL Belarus, Ukraine, And Moldova Report."